2008 Calendar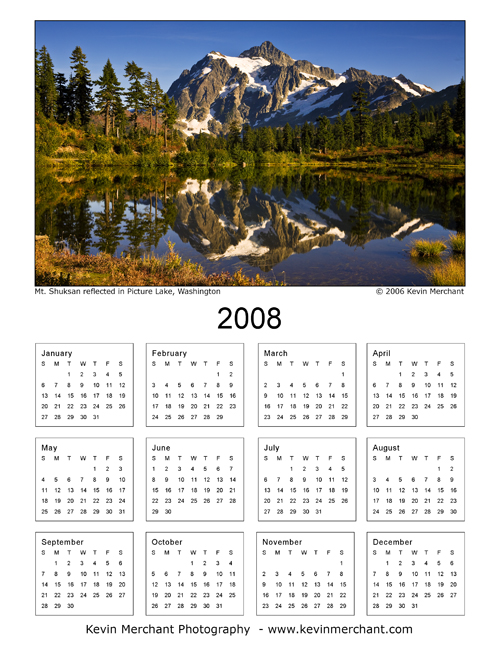 MN_100906_5D-88 - Mt. Shuksan reflected in Picture Lake, Washington
The week before this image was captured, I went on a day hike with my wife and some friends. We stopped at Picture Lake after the hike and there was a gaggle of people on the boardwalk to this viewpoint. I returned a week or so later and spent the day. You have Mt. Shuksan to the east and Mt. Baker to the west. Arriving early enough for sunrise at Artist Point, I photographed Mt. Baker in early morning light. And, I nearly had the place to myself. Light on Mt. Shuksan would not be good until the afternoon, so I went off in search of other fall color.
Arriving at Picture Lake in late afternoon, I was met by a gaggle of photographers on the boardwalk, with no chance of setting up in the prime spot for shooting. This forced me to look for alternatives and I quickly chose the spot where this shot was taken. I rather like the golden grass in the foreground.
To my surprise, one by one the photographers left with great light still on Mt. Shuksan. And, surprisingly, the wind died down leaving the lake dead calm and I had the place to myself. I continued shooting for at least another hour and came home a happy guy.
---
2009 Calendar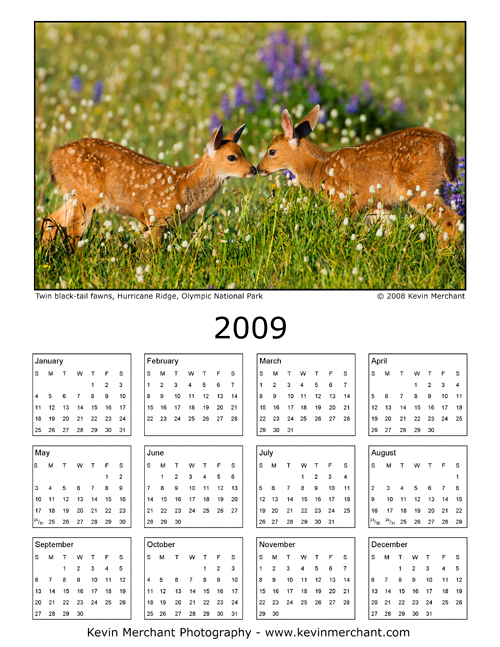 A_071108_1D_III-238 - Twin black-tail fawns, Hurricane Ridge, Olympic National Park, Washington
The year prior to when this image was captured, I had driven out to Obstruction Point in Olympic National Park. The road takes you through this stunning field of avalanche lilies. It was raining that day and shooting time was cut short. It is such an awesome location that I was determined to return, which turned out to be a year later.
I have since learned that there is usually enough snow in the winter that the road needs to be plowed to allow access in the summer. Be sure to call the park service first. On my return visit, I discovered winter storms had blown a number of trees over the road - making it a truly obstructed point. After a very short attempt at hiking through the debris, it became obvious that there were better ways to spend my time and energy.
I had arrived early in the morning, at the parking lot of the Hurricane Ridge Visitor Center, and had spotted black-tail deer. But they had quickly disappeared. As it happened, I met another full time photographer who was there specifically for the fawns and the wildflowers. He filled me in on the mother deer's routine. Realizing what a good opportunity this was, I spent that day and the next two in the area to photograph fawns. The mother would bring the babies out in the morning and then eventually disappear into the forest for the day. Sometime in the afternoon, she would return with the babies. I easily spent an hour or two each time with mom and the kids.
The calendar shot happened on the last afternoon that I was there. With the mother lying in the grass, just out of the picture, for a very brief moment, the twin fawns walked up to each other, nuzzled and then it was over. A crowd was gathered and it was a pretty amazing moment.
---
2010 Calendars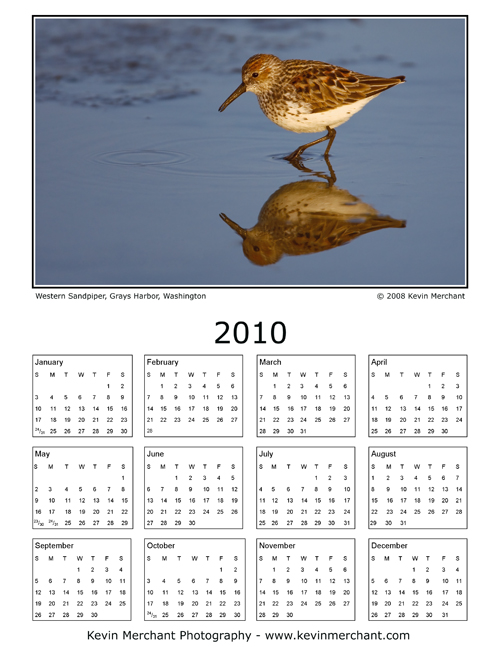 B_042508_1D_III-149 - Western sandpiper, Grays Harbor, Washington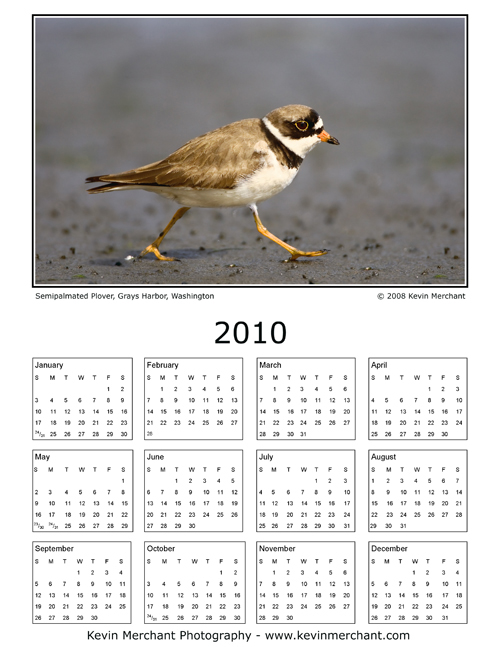 B_043008_1D_III-74 - Semipalmated plover, Grays Harbor, Washington
These images are some of my early successes in photographing shorebirds, particularly with my, then, newly acquired Canon EOS 1D Mark III; one of two of Canon's top-of-the-line professional camera bodies. A big deal for me because a) I had spent a small fortune on the body and b) I finally had a camera body that did justice to the subject matter.
Western sandpipers and semipalmated plovers don't spend much time being still enough to be photographed. My new camera was more than able to capture these little guys as they skittered across the sand. Sure, I had some success with previous camera bodies, but this one was capable of fast auto-focus and 10 frames per second. It's like shooting a machine gun. I suddenly had a much higher percentage of keeper shots.
Western sandpipers and semipalmated plovers are two of the more common variety of shorebirds, seen in abundance during the spring migration. I have probably spent more time with this family of birds than any other and relish each opportunity to be with them.
---
2011 Calendars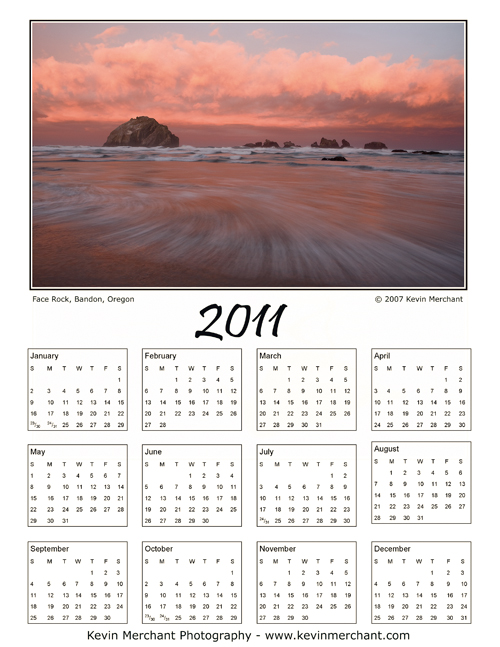 C_100907_5D-43 - Face Rock at sunrise, Bandon, Oregon
I have spent more time at this beach location than any other. There is a kinship for me - I am familiar with it's many features and yet, few are the times that my visits have not been one of discovery. Really, it is the nature of beaches to change. There is always an element of discovery.
Face Rock is one of the most photographed sea stack features of this beach and yet most of the images I have seen are shot from vantage points further north. I simply love this angle as it brings into sharp view the profile of the face seen in the sea stack to the left.
The secret to making this shot can't be seen - I am wearing chest waders and am absolutely not worried about getting wet. I tell other photographers that the best $100 they can spend on camera gear is to buy a pair of chest waders (okay, they cost more now than when my wife bought me the ones I have).
I love the element of such one-of-a-kind shots where the water is coming in at my feet. Of course, when the wave hits the tripod legs, vibration causes one or two soft focus shots, but up until then there can be some awesome decisive moments. That is why you keep shooting when you have light as fantastic as this.
I also love the light color that is reflected by the water. Sometimes, when you are standing much further back to avoid getting wet, these reflections are not as noticable.
---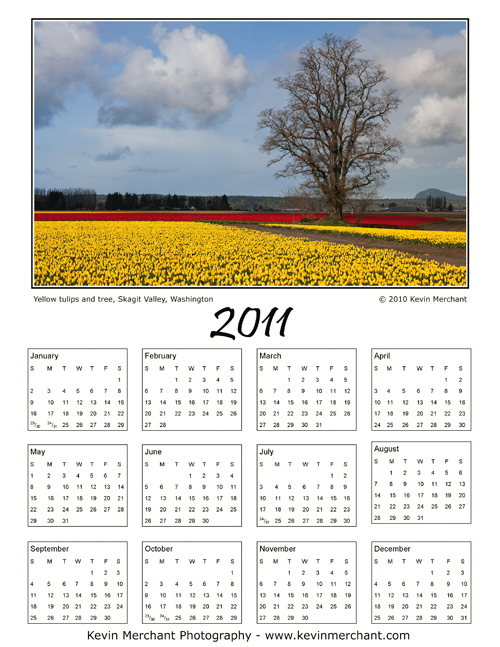 FL_040910_5D-145 - Yellow tulips and tree, Skagit Valley, Washington
I refer to this tree as my favorite tree in Skagit Valley - out in the field where tulips are planted and it has been left standing. The typical vistor to the tulip fields never sees this tree, except maybe from very far away - it is a hike to get to from the parking area. For that very reason, it is not at all obvious that the walk is worth it. I found it on one of my wanderings many years ago when I spent a lot more time pursuing tulip shots. Due to the nature of the bulb farmers rotating the planted fields, you will only see it surrounded by blooms every five years.
When you walk out to it, you actually have to walk past it and look back to get what I believe is the best vantage point. I don't really like the shape of the tree from any other angle. That may be just me.
---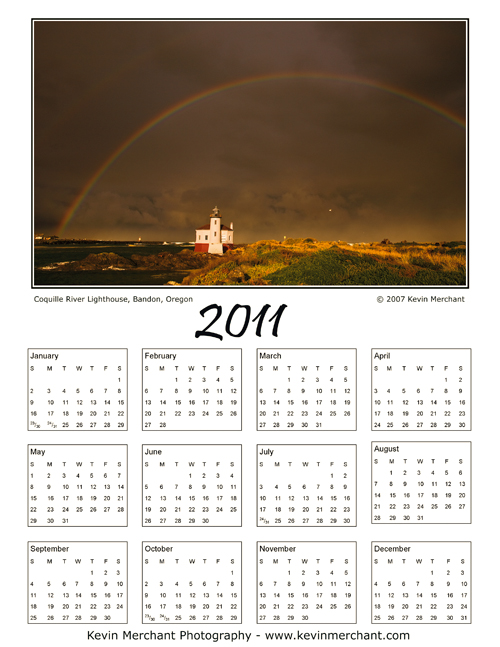 LH_100407_5D-35 - Coquille River Lighthouse with rainbow, Bandon, Oregon
The Coquille River Lighthouse, more commonly referred to as the Bandon Lighthouse, is no longer in use. Built between 1895 and 1896, it served mariners on the Coquille River until being decommissioned in 1939. It now serves as a major tourist attraction to the city of Bandon.
This lighthouse, more than any of the beach features in the area, is associated with Bandon. It doesn't hurt that it is so photogenic.
Which brings me to my story. I was at the lighthouse for sunrise light. Having waited in vain, I had given up on the soft early morning pinks that I had envisioned on it, and walked up river to scout the beach. Not really finding anything else of interest, I was walking back towards the lighthouse with the intent of leaving. I could tell I was about to get rained on and my pace picked up. That is when it happened - there was a break in the clouds low on the eastern horizon and the rainbow appeared. I fumbled getting my camera ready to shoot and set up shot after shot. Moving closer and closer to the lighthouse, stopping every few feet to compose, I would take a shot. It lasted maybe 10 minutes. And then it was gone and that's when the skies opened up for a down pour.
Running back to my vehicle, another person came racing into the parking lot and asked if I had seen the rainbow. Getting drenched, I felt like saying, "What? Are you kidding me, what rainbow?" Instead, I told them how awesome it was. Sometimes, you simply cannot plan these things. You just have to be there and be ready. I think I read that in a book somewhere!
---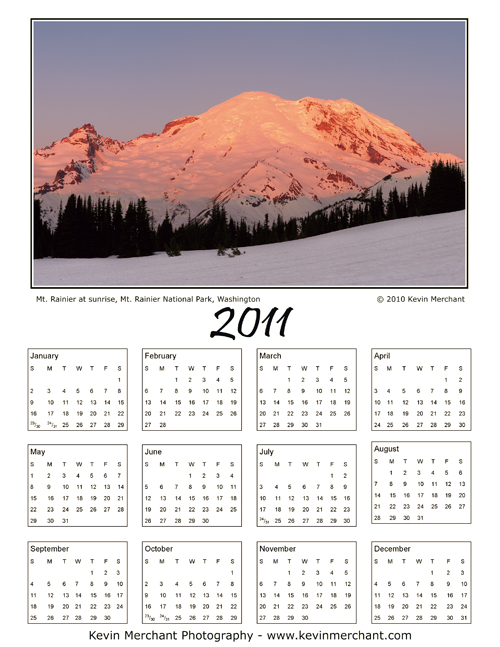 NP_062610_5D-4 - Mt. Rainier at sunrise, Mt. Rainier National Park, Washington
We'd seen it reported that the road to Sunrise Visitor Center in Mt. Rainier National Park had been plowed and was open. Driving down early on Saturday morning, we had to be careful driving in the dark - we saw several elk just off the road. As we are winding our way up to the visitor center, we pass several photographers staked out at a switchback in the road. But, we'd prefer to be higher up. Do we stop? No, keep going! First light is starting to hit the mountain!! We are getting anxious to not miss it!!! It's going to be awesome and we're going to be late!!!!
Out of the vehicle as quickly as we can, gear in hand, we literally race up the still frozen snow trying to stay upright, not break any bones and get a good vantage point to shoot from. We made it and had a half hour to an hour of stunning light. And then the show was over. Good planning would have dictated that we leave a half hour earlier; noted and filed away for future reference.
---
2012 Calendars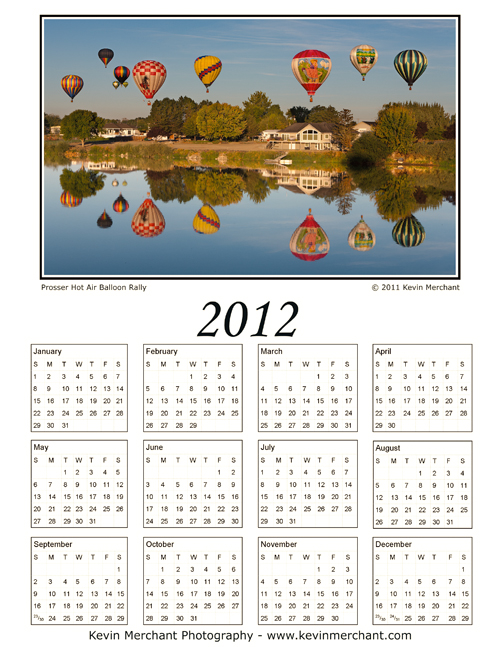 E_092311_5D-20 - Prosser Balloon Rally, Prosser, Washington
I'd come across information about the Prosser Balloon Rally and filed it away as something I would eventually get to. Boy, am I glad I eventually got to it. It is a lot of fun. This image is from my very first visit and what I did not realize then was how fortunate I was to experience conditions that made it possible.
At first, I questioned why it was a three day event. Now I know - you have three mornings (chances) when, if conditions are right, the balloons will be inflated and launched. And, if conditions are really right, the pilots are able to maneuver their balloons to the Yakima River and make the image you see here possible.
After attending three rallies, I know that there is no guarantee that the balloons will be inflated, much less launched if the wind conditions are not deemed suitable for flight. And, even if you do get a launch, the balloons may or may not be able to maneuver to the river.
But, if they do make it to the river, there will be elbow-to-elbow people on the bridge leading into the town of Prosser. That is where this image was captured. Saturday, of course, is when the bridge is the most crowded - another good reason, in my opinion, to plan on being there all three days as Friday is a lot less crowded.
With all of the uncertainty of the balloons taking flight, camping out on the bridge and waiting on the balloons to fly over (I did this on my first trip) means you miss all of the inflation action and potential for balloon closeups. You have to be adaptable to the situation and now I generally start out where the balloons are being inflated at the airport. If it looks like they will launch, I will head over to the bridge. You can't be everywhere, so you have to decide what you want to shoot and give up something. It is the way of balloon rallies.
---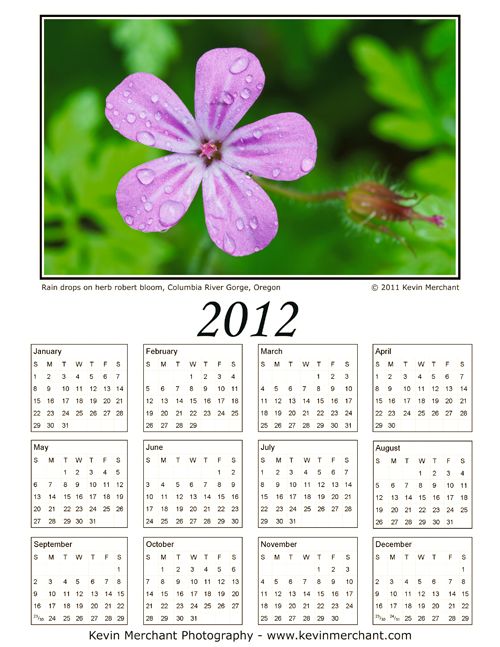 FL_052511_5D-9 - Rain drops on herb robert bloom, Columbia River Gorge, Oregon
It is a small, delicate bloom. You'll miss it if you aren't looking. Not really even a splash of color to catch your eye. But, if you happen to be looking down as you're walking along, you'll spot it. That's how it was for me the first time I saw this flowering plant in the Columbia River Gorge. It prefers the shade of the understory. And that makes it even more difficult to photograph - very small, in the shade.
But, on this particular trip, I found the plant about waist high off the trail, which meant I wouldn't have to grovel down on the ground to set up the shot. The bloom is so small that it definitely requires a macro lens. And, a very still morning. And, you have to be careful with your breathing to not disturb the bloom. The water droplets just made it perfect to shoot.
---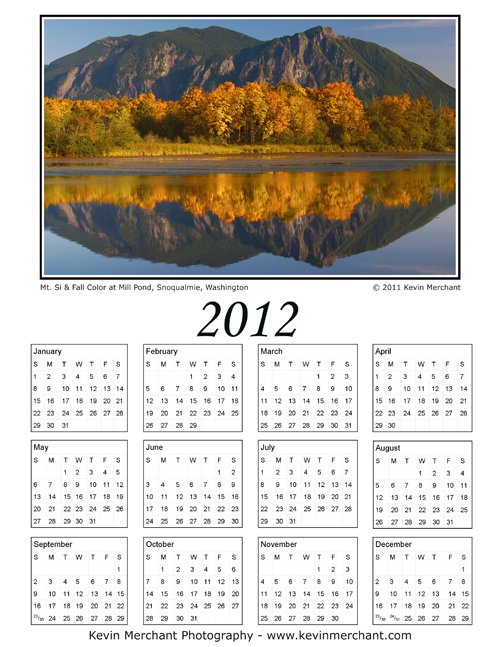 FC_102711_5D-11 - Mt. Si and fall color at Mill Pond, Snoqualmie, Washington
Mill Pond was once used for its namesake - a milling operation in the town of Snoqualmie. It continues to be home to a number of water fowl and other aquatic creatures. But its main attraction for me is this image. In the fall for a short period of time, the reflection of the stand of trees is amazing. And, you have the added element of Mt. Si in the background - one of the local peaks I have hiked up countless times. This is a late afternoon shot, so there is no early morning rise time required. Perfect.
---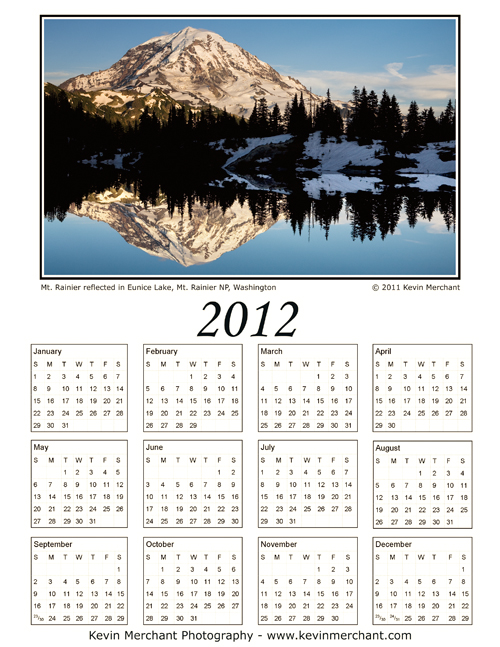 NP_070707_5D-235 - Mt. Rainier reflected in Eunice Lake, Mt. Rainier National Park, Washington
Mt. Rainier reflected in Eunice Lake is a very iconic location. Depending on the time of year and the level of the lake, this vantage point can be easy to get to. But, for this particlar trip, it was a bushwhack as the lake level was too high to skirt around it. However, it was well worth the effort.
The hike itself is not that difficult. As a matter of fact it is one of the easier hikes in Mt. Rainier National Park. The road in to the trail head is another story - 15 miles of a washboarded gravel road. And, it has become a very popular starting point for a number of destinations in the northwest corner of the park. Get an early start for a parking space.
---
2013 Calendars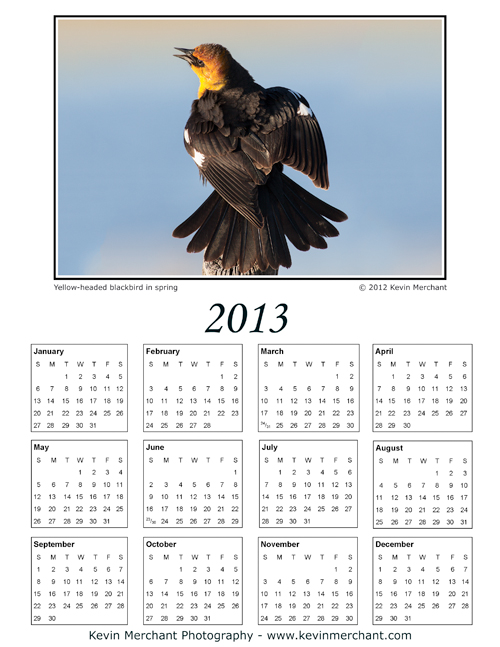 B_042112_1D_III-854 - Yellow-headed blackbird displaying, Malheur NWR, Oregon
A bird that is rarely seen on the western side of the Cascades, it is much more common in eastern Washington and Oregon to see yellow-headed blackbirds. This particular shot was made while visiting the Malheur Wildlife Refuge in central Oregon.
The male is quite striking with that bright yellow head. In the springtime, the display seen here is used to attract females. You get the sense that the bird is putting every ounce of his being into saying "Hey, here I am!". It is fascinating to watch.
Shot from the window of my truck, the birds use fence posts along the road to gain an up high vantage point off the ground. Having observed this behavior, I will drive along slowly hoping to catch a bird on one of the more photogenic wooden fence posts. This same strategy works for red-winged blackbirds and western meadowlarks in the area.
---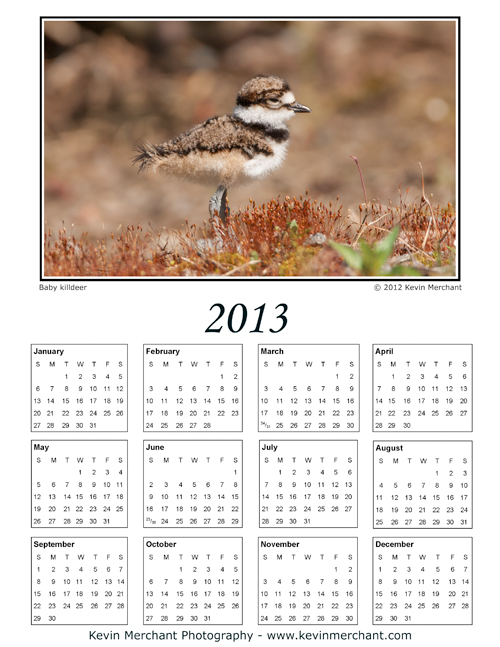 B_051612_1D_III-74 - Day old killdeer chick, Redmond, Washington
It's possible you have heard the call of an adult killdeer and just not known what it is. They are very common around just about any water feature you may encounter. I love to hear them calling in the spring time.
They are ground nesters which brings me to the point of this image. I had returned home from a multi-day birding trip to central Oregon. In the backyard I heard the very distinctive call (to me) of a killdeer. For the next few days I would catch one calling, but still did not think anything of it. "They wouldn't nest here", I thought; although we do live next to a stormwater retention pond. One day, I happened to be over by the fence and heard the killdeer call. I looked down and there below the retaining wall was the bird. Eventually, it walked back over to a spot in the gravel and sat down. "What's this?" I thought. "Surely it is not nesting!". On closer inspection, sure enough, there were four eggs nestled in the makeshift nest in the gravel.
With a little research, I determined the incubation period for the eggs and started counting the days. Near the time you would expect to see chicks, I started checking the nest. Late one afternoon, I noticed something had changed in the nest - there was the first chick. The next morning two more chicks had appeared. They were all up and mobile, moving around. The next morning the fourth had hatched and later that day, the parents disappeared with all four chicks deep into the tall grass that surrounds the pond.
Because killdeer build their nests on the ground, they rely on camouflage and a wounded bird tactic to distract prey away from the nest. Their nests are very vulnerable, especially near human activity. Once, I had to re-direct several kids, who were playing near the pond, as they almost stepped on the nest.
Unlike many other birds species, killdeer chicks are up and on the move within 24 hours of birth - they are flightless and quite vulnerable. As you can see though, they hatch with that first cute fuzzy layer of feathers.
---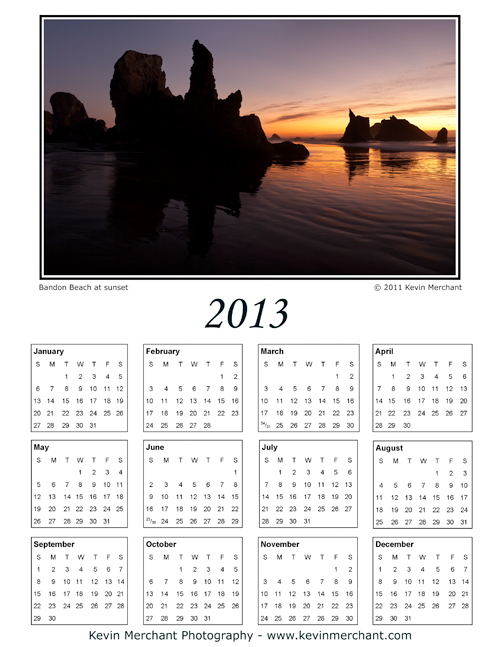 C_100611_5D-325 - Bandon Beach at sunset, Bandon, Oregon
Yes, my favorite beach again. What is unusual about this image - it is the rare visit at sunset for me. Typically, I have gone out for early morning shoots. Why? The simple reason is that I was almost always there to visit my parents and it was much easier to sneak away in the morning when everybody was still in bed. Not so easy in the afternoon, when everybody is up and dinner is soon on the table.
Even though they are gone now and I don't have that constraint, I still prefer morning shoots. Why? A couple of reasons, really. Well, maybe three - there is almost never anyone out that time of day in the freezing cold on the beach, the colors of the morning can be more subtle than the technicolor of a sunset and with the sun rising behind you, the sea stacks are lit in the morning, sometimes with great reflections. The sea stacks at sunset are all silhouetted - no detail. Don't get me wrong, I love a good sunset, but the mornings offer a less seen look.
---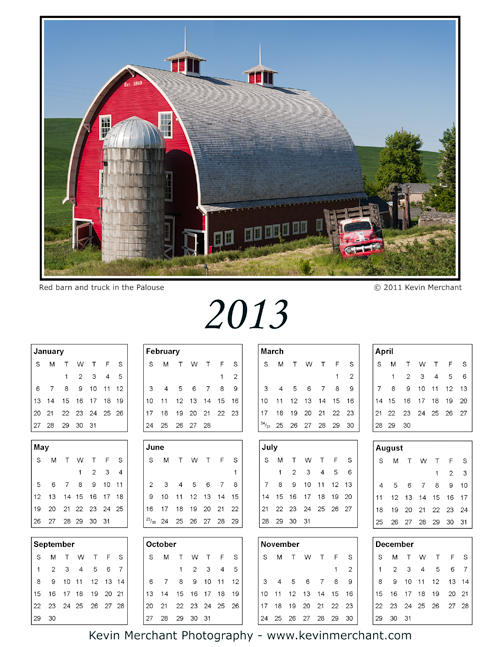 F_061211_5D-63 - Red barn & truck, Colfax, Washington
Okay, this barn was one that I tracked down with a friend while on a trip to the region of Washington state known as the Palouse. The owner of the barn had done an amazing restoration job. And, yes, he parks the truck there to attract the would be passersby. Old barns like this are slowly disappearing as farming operations grow larger than the barns can handle and are not maintained. Simple fact of life. Enjoy them while they are around.
---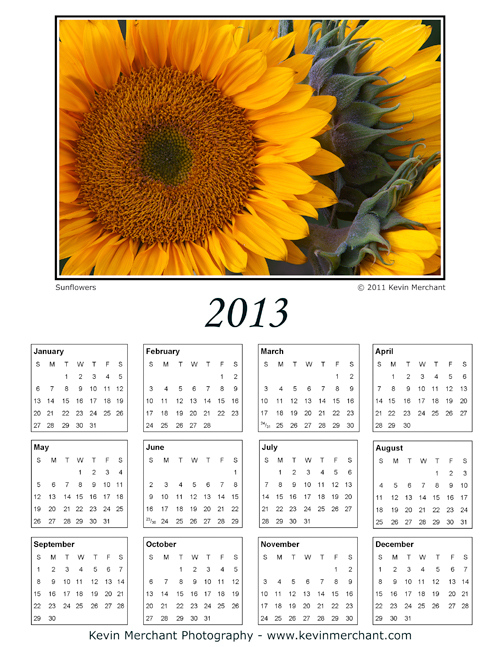 FL_090311_5D-6 - Sunflower bloom, Redmond, Washington
I love sunflowers. They are the sort of flower that demands attention. And, so I gave these my best effort. A simple set up just inside the back door of the house, out of the wind but still getting daylight. I used what is known as a stacking technique to get every bit of the image in sharp focus (something that is necessary with such closeup shots). You manually focus on either the closest or furthest part of the subject, take a shot, and incrementally change the focus, shoot and repeat, moving towards the furthest or closest point, respectively.
Once you have a series of images that you think will work, then the fun begins. Jumping past all of the post processing required for RAW images, you load all of the images into Photoshop which has an algorithm to pick out of each image just the bits that are in focus and composite them into a final image, such as you see here. There is just one catch - the Photoshop algorithm, I have found out, is not perfect. A ton of hand retouching was needed in order to produce the final image. For each unique composition that you produce, you get to go through that hand retouching process. This is the definition of tedious.
---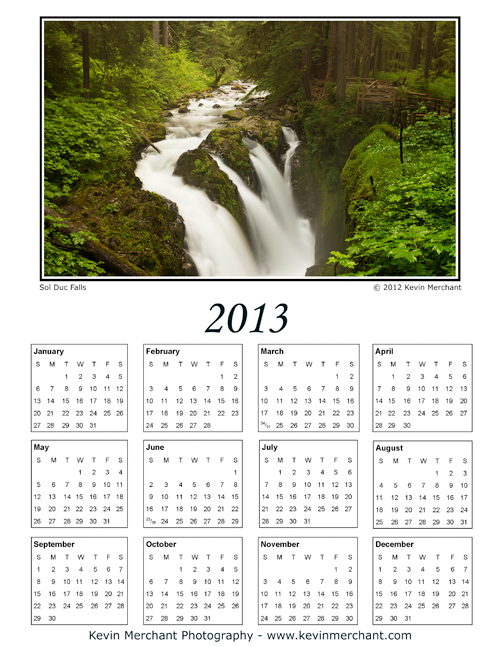 WF_072712_5D_III-51 - Sol Duc Falls in the morning, Olympic National Park, Washington
Sol Duc Falls is one of those iconic places that is just near enough and enticing enough that many people hike to it when they are visiting Olympic National Park. My first visit had been many years prior to when this image was captured. The time of year was around Mother's Day weekend. My memory was that there was hardly anyone there. This time, my summer schedule had me at a festival in nearby Sequim in mid-July. So, after the festival I stayed on a few days to do some shooting. Hiking to Sol Duc Falls in the afternoon, as I had before, I did not anticipate the number of people who would be there. Well, it's the middle of summer on a nice sunny day. How could I not have known? Let's just say there was not going to be any of my preferred shooting style this day and leave it there.
But, I formulated a plan - get there before first light in the morning. And, that is exactly what I did. I had the place to myself for at least an hour before the first hiker showed up. I was able to get all the shots that I really wanted.
The river falls into this narrow cataract that makes for a very dramatic waterfall. The bridge crossing the river gives you a view right down into this caldron of churning water and the early morning light just bounces off the mist created by it. That is where this shot was made.
---
2014 Calendars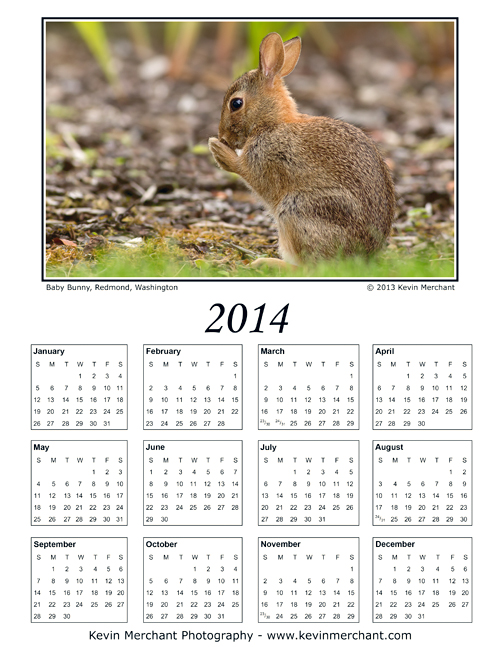 A_071713_5D_III-6 - Baby bunny, Redmond, Washington
Baby rabbits are just adorable, right? Except when they munch on some of your favorite plants. This year we had to fence off some fuschia starts that were being nibbled on by our resident rabbits.
Ever since we have been in our current house, we have had rabbits come wandering through our backyard, which is totally fenced in and a relatively safe place. Almost every spring we have spotted babies in the yard. It is the funniest thing to see them because they are fast as bullets and they will take off for no particular reason. And they are very wary.
I have found that by getting down on the ground and moving very slowly, I can gain their trust to get close enough to make some great images. It is a lot of fun to spend time with them because they are actually very curious, sampling all the plants and just finding their way in the world.
I have referred to this shot as "The praying bunny" but it is really just cleaning itself.
---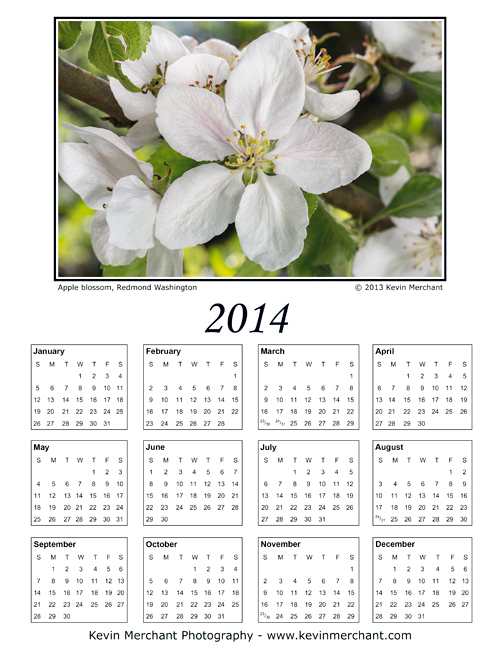 PL_050413_5D_III-14 - Kings variety apple blossom, Redmond, Washington
You don't normally think of apple tree blooms as being that pretty for individual blooms. Sure, the trees look nice in bloom. Well, I was invited by some friends who owned an orchard to come and see what might be worth shooting. I must say this particular bloom is stunning - the white with just a touch of pink and the yellow center. I love it.
---
2015 Calendars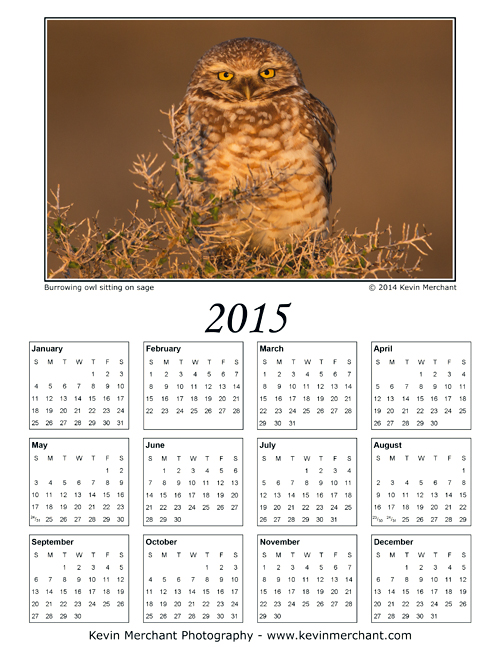 B_041114_5D_III-8_calendar - Burrowing owl sitting on sage, Burns, Oregon
Arriving in central Oregon on a spring birding trip, I discovered that it was a low water year, which meant that many of the wading birds were much further away from the road or not present at all. Thankfully, there were a lot of ross's geese. And a good number of sandhill cranes. After making a sufficient number of trips out to the greater sage grouse lek, I was in search of something else.
So, I made e-mail contact with a local photographer that I had met at the bird festival the year before and asked if he had any leads on burrowing owls. He gave me a couple of tips and one turned out to be very productive.
This is the male of a pair that had already claimed their burrow and were preparing for mating season. I had spent the two days prior at the burrow, but returned one last time in the very early morning, before I had to go set up for the bird festival. When I arrived the male was sitting on top of some sage right next to the burrow in sweet early morning light. I shot for about 10 minutes before he hopped down to the ground. Nice.
---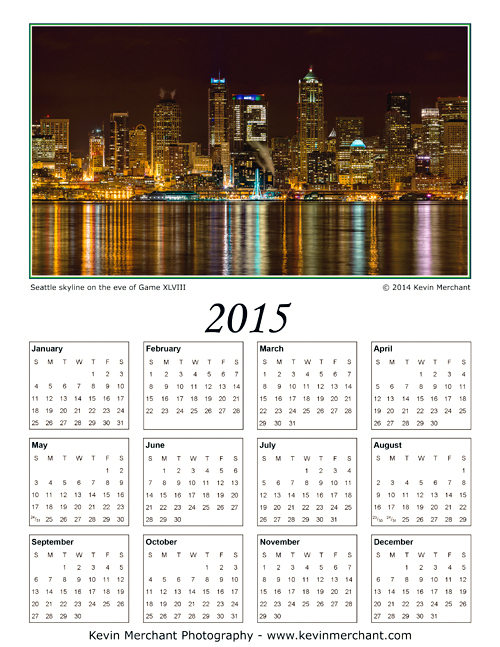 CI_020114_5D_III-31 - Seattle skyline on the eve of Game XLVIII, Seattle, Washington
This image was made from a well known vantage point for afternoon/evening shots of the Seattle skyline - Alki Point in West Seattle. During the buildup to the Seattle NFL team's participation in Game XLVIII, one of the buildings in the skyline made a special display in acknowledgement of the Seattle fans. This display was made during the weekend of the two playoff games and Game XLVIII.
I had seen some images from the first playoff game and decided to venture to Alki Point for the second playoff game. I was able to dial in the technique needed to shoot the image I was envisioning - a panorama of the skyline with lights reflected in the water; but the results were not that great due to conditions. The conditions have to be just right in order to get a really nice reflection of the skyline. On the eve of Game XLVIII and probably my last opportunity of the year (I wasn't going to miss the game!), the conditions were JUST right and made this image possible.
The distance from this vantage point dictates using a telephoto lens. The image in the calendar is but a portion of the full panorama that was made from a series of long exposure shots stitched together - a technique I regularly use for panoramas.
By the way, it was freezing cold that night.
---
2016 Calendars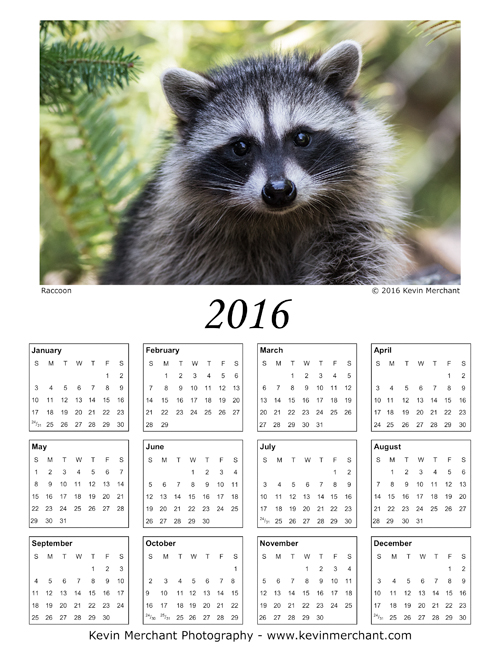 A_081115_7D_II-87 - Young raccoon, Redmond, Washington
Sitting in the kitchen for lunch one day, I heard a peculiar noise in the backyard. I poked my head out the door and saw a pair of young raccoons inside the fence. I dashed upstairs to get a camera, hoping they would not be gone when I got back - they weren't.
For maybe twenty or thirty minutes, I was able to situate myself close enough to shoot both - they were a bit curious, kept an eye on me and did not run off immediately. It seemed that they were somewhat distressed, but that was before I even stepped out the back door. It happened that there was a small bird bath sitting on a rock by the fence and they both were happy to get a drink. I could tell they were trying to get outside the fence, but there happens to be a 10' drop to the ground below the retaining wall.
Pretty soon, they made a final exit outside the fence and started crying and running back and forth on the retaining wall. It turns out, they had become separated from their mother who came up from the pond with a third sibling. With enough motivation, they finally made their way down the wall to their mother and disappeared. Me? I was quite happy with my encounter - we have had plenty of dusk and night time encounters here at the house but this was the first in full daylight.
---
B_061715_7D_II-1306 - Cedar waxwing, Ellensburg, Washington
Sometimes when out with nature, you are just given a gift. This image is the result of one of those gifts. Cedar waxwings are beautiful birds that have eluded me and still do, really.
I had been out shooting western and mountain bluebirds in eastern Washington for several days. I was spending an afternoon with one particular pair of western bluebirds in really nice light. A flock of cedar waxwings flew in and this one individual landed on an unobstructed branch in the perfect position. I positioned my lens to shoot and got off two shots before the bird flew too far away to shoot. Pretty soon they were gone. I couldn't have wished for a better result - a gift.
---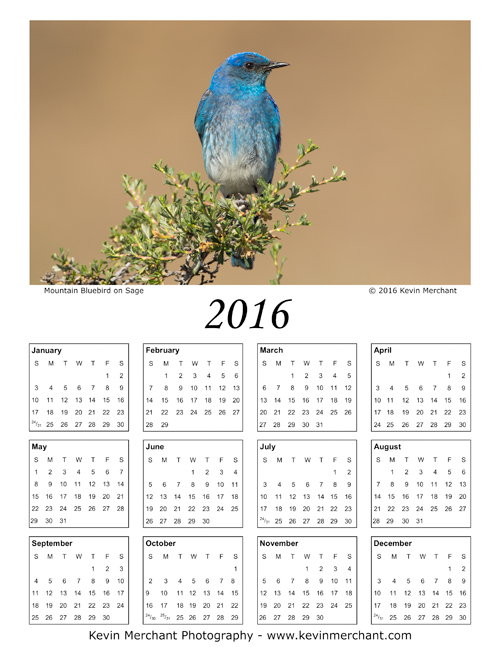 B_061815_7D_II-385 - Male mountain bluebird, Ellensburg, Washington
Mountain bluebirds have this stunning, almost flourescent blue color that just catches your attention. This image was captured while I was at a nestbox location on the side of a gravel road. Every time a vehicle passed by, the birds would fly off. Usually, within minutes they returned to some nearby perch. So, if you are driving by, you may only catch a glimpse of a blue flash as they fly off, not giving any thought that they are busily raising their young. In fact, the nesting pairs are very attentive to the nest box with chicks inside. They became very comfortable with me parked nearby, routinely bringing in a variety of insects to feed their young. They share the same habitat with western bluebirds and both species will use the nesting boxes that have been provided.
---
2017 Calendar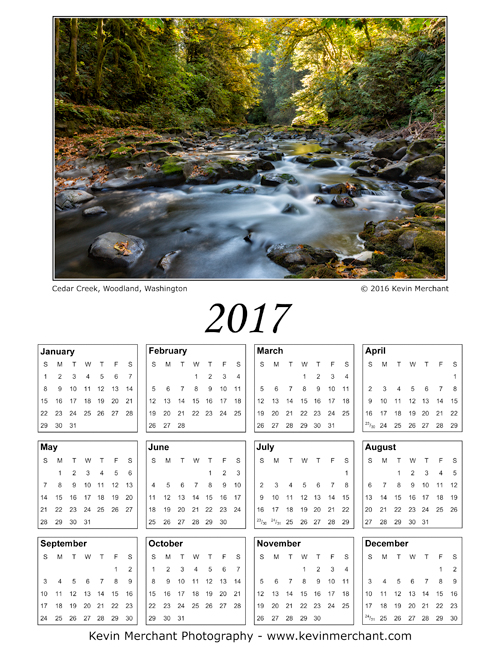 ST_093016_5D_III-24 - Cedar Creek, Woodland, Washington
On a trip for a fall time bird festival, we went to scout fall color at a nearby, part-time active grist mill. The fall color around the mill had not yet developed and our late morning arrival meant there was too much contrast and would yield less than ideal results. We walked up stream from the mill and found this view. The creek was still in shade and with the light streaming through the big leaf maples further up the creek it had that cool fall feel to it.
---