Kevin Merchant Photography News 2012
2012 EVENTS
Wings Over Water (Blaine, WA) - March 17
Sandhill Crane Festival (Othello, WA) - March 24
John Scharff Migratory Bird Festival (Burns, OR) - April 13-15
Grays Harbor Shorebird Festival (Hoquiam, WA) - May 5-6
Juan de Fuca Festival of the Arts (Port Angeles, WA) - May 25-28
Meeker Days Festival (Puyallup, WA) - June 15-17
LiveARTS Bothell (Bothell, WA) - June 23-24
Art & The Vineyard (Eugene, OR) - July 6 - 8
Cornucopia Days (Kent, WA) - July 13 - 15
Sequim Lavender Festival (Sequim, WA) - July 20 - 22
Magnolia SummerFest (Seattle, WA) - August 3 - 4
Art Walk (Mill Creek, WA) - August 9 - 5:00 PM to 8:00 PM
Coupeville Arts & Crafts Festival (Coupeville, WA) - August 11 - 12
Olympia Harbor Days (Olympia, WA) - Aug. 31, Sept. 1 -2
Cranberry Festival (Bandon, OR) - September 8 - 9
BirdFest (Ridgefield, WA) - October 13 - 14
December 5, 2012
Winter visitors - it's that time of year again and our backyard feeders have been a hive of activity. It's been a challenge to keep the feeders filled. Here are a couple from this past January during a snowstorm when food was more difficult to find.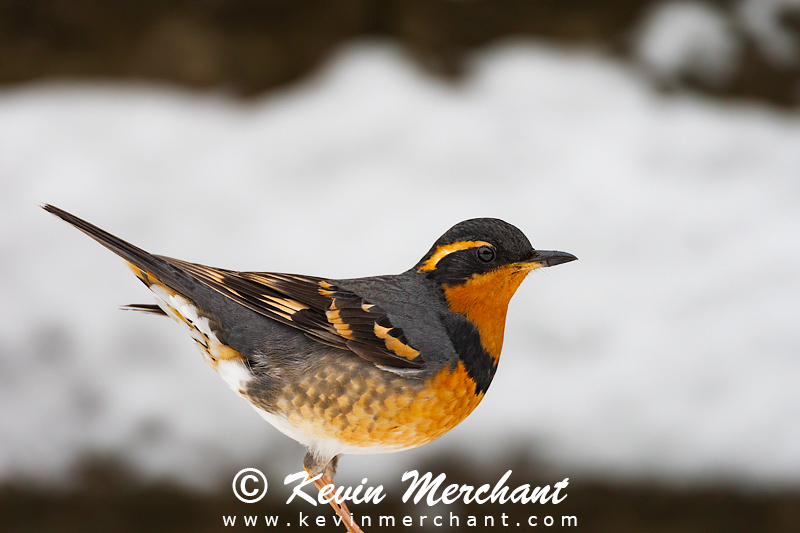 Varied thrush in snow
EOS 1D Mark III / 500mm f/4 AF / 1.4x Teleconverter
1/1000 S, f/5.6, ISO 800
We do not typically have varied thrushes coming in to our feeders, so it was a thrill to have this visitor coming in while there was snow on the ground. As soon as the snow was gone he disappeared - the secret life of a bird.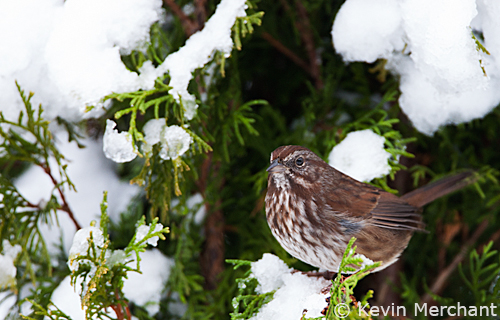 Song sparrow in snow
EOS 1D Mark III / 500mm f/4 AF / 1.4x Teleconverter
1/125 S, f/5.6, ISO 800
November 24, 2012
You may have noticed that I am having a CLEARANCE SALE. These prints will no longer be held in my inventory. That means they will no longer be available for sale at any shows in the future or as ready-to-ship prints. They will still be available as a custom order, as any now are through the new GALLERY.
Supplies are very limited and clearance prices are good while supplies last. Mat colors are as designated in the Finished Size section for each print.
Thank you for supporting this micro business.
November 15, 2012
The festival season has ended, for me. Time to tend to house-keeping. The gallery software has been updated, and I've slowly added features. One that is still in the works is a shopping basket. But it still needs some polishing before it is ready to go live.
I have added a CALENDAR to the menu that will give a bit of my schedule - festivals and other events past, present and future. It may prove to be mostly useful to me so I know where I'm going to next and my wife so she know's where in the world I am on any given week. If for no other reason, it was fun and techy to work on. It is database driven using MySQL, something I had not ever used before this year, and now both the GALLERY and CALENDAR are using it.
My ARTICLES section hasn't been the most active section I will admit, but I have added three articles this year:
Hand Blending in Photoshop
Puppet Warp Panorama Refinement
L-Bracket
Hand Blending in Photoshop has to do with the technique I use to produce panoramas where the Photoshop blend algorithm fails to produce a seamless blend.
The Puppet Warp Panorama Refinement article deals with panoramas where the horizon has an unwanted curvature to it. Photoshop's puppet warp is a great tool to correct that curvature.
The L-Bracket article is about one of my essential pieces of camera hardware.
There is another article in the works on tripod ballheads. I still need to add some photos to that before it makes an appearance. I'm also thinking about an article on my method of file organization that people may find useful. I know that I have done quite a bit of revising in how I organize my digital images over the years since I went fully digital. And I know that I sometimes cringe at the methods I've seen other people using. This is not the sort of hot topic you see covered in magazines, but it is important to have a system where you can find all those images. Watch this space.
October 31, 2012
Since the inception of this web site back in the summer of 2007, I have been using gallery software that I wrote in the PHP language (script, to be precise). It was (and still is) fairly rudimentary, especially by today's standards. But, the only cost was my development time and it met my needs.
As the image library grew to its current size (over 2000 images) the lack of a search capability was painfully obvious. I have had my eye on a couple of different open source gallery packages and have settled on one that is called, drum roll please, Gallery. Original, right? Well, I didn't make up the name but the software suits my current needs.
It has the search capability that I was looking for, as well as a keyword based tag list, allowing you to select a group of images associated with a specific keyword. There are Entire Gallery and This Album links showing the latest additions. With this feature available, I may do away with the NEW album if those links seem to meet the need. A really nice feature allows you to click on the image, when you are on an individual image page, for a larger view. While most images are already displayed at full size, not all of the panoramas are. This feature shows them off nicely.
As time rolls on, I may add other features that make sense for me. In the mean time, feel free to kick the tires and let me know what you think.
And, as always, thanks for stopping by.
October 16, 2012
It's hard for me to believe that it is the middle of October. The rains here in Seattle have returned after going an unprecedented 81 days with very little measurable precipitation. It's not often you hear people here being concerned about no rain in Seattle. So, spring and early summer were unusually wet and then this long dry spell - a year of extremes.
I'm back from the Ridgefield BirdFest last weekend. In years past there was a bluegrass music element to the festival with music being performed around town and even out on the refuge. Due to performance royalty issues and a lack of funds, the music was absent this year. It seemed to me that attendance was down; perhaps in part due to the lack of music.
In any case, I had a successful sales weekend. Also, I arrived a couple of days early to work in some shooting on the refuge. I was not disappointed - great blue herons, American bittern and red-shouldered hawk. None of these were terribly well represented in my library so I was happy to come home with these species. I must go back in the spring.
At this time I have no more shows/festivals scheduled to the end of the year, so it's time to get busy catching up with all the images I've shot this year. And, I continue to peck away at the film library doing some scanning as time allows. I have many more landscape locations on film than are represented in the GALLERY, but getting around to digitizing seems to continue to be a challenge. We shall see.
September 27, 2012
Well, I'm back from what turned into a three week trip to Bandon, Oregon. But, before getting to Bandon, I stopped off in the Columbia River Gorge for some waterfall shooting with a good friend for a couple of days. Fall is probably not the most ideal time to shoot waterfalls as the water flow is much lower than in the spring. However, there was one waterfall that I thought was ideal - Wahclella Falls on Tanner Creek. We happily spent quite a bit of time at this one and it will be high on my list to return to.
Before I knew it, it was time to hit the road and get to Bandon. I had to get my booth set up on Friday for the Saturday/Sunday annual Cranberry Festival. With great weather, this was another successful festival. With the family ties that I have in Bandon, it was a bit like a reunion seeing relatives and long time friends. I had a great time.
I remained in Bandon for almost three weeks taking care of some personal business. It afforded me the opportunity to get out a few times for some shooting. The weather was not always cooperative, but I did have nice light on one morning shoot.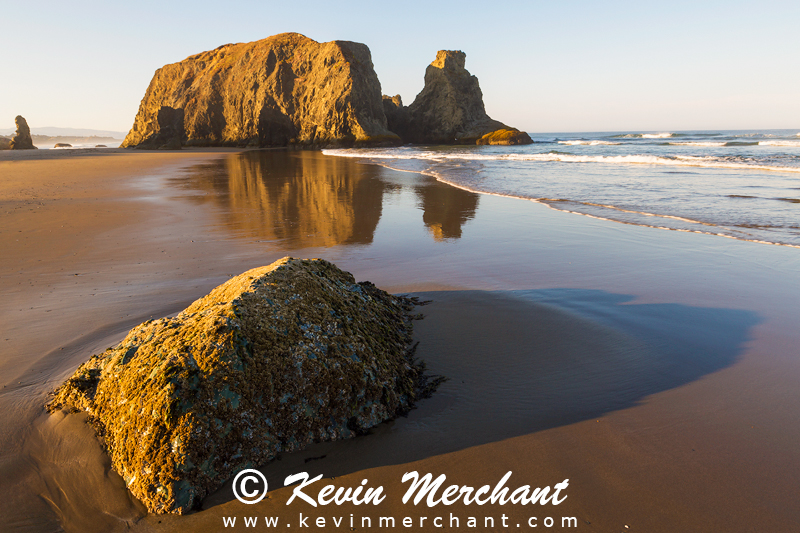 Bandon Beach in early morning light
EOS 5D Mark III / EF 24-70mm f/2.8L AF @ 24mm
1/13 S, f/16, ISO 100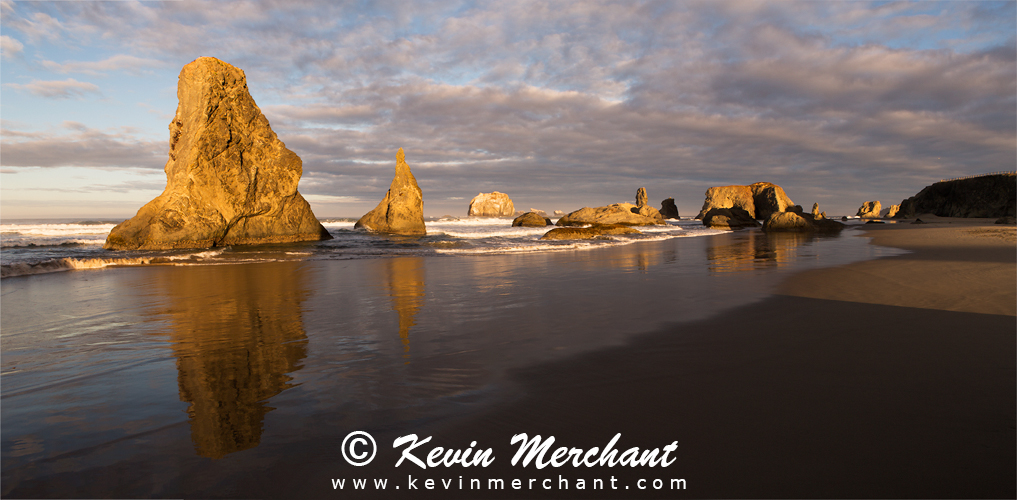 Bandon Beach in early morning light
EOS 5D Mark III / EF 24-70mm f/2.8L AF @ 24mm
1/20 S, f/16, ISO 100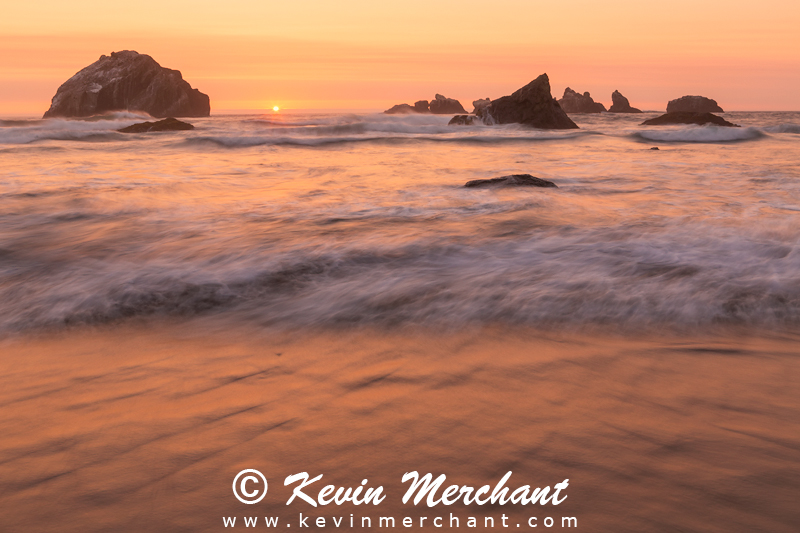 Face Rock at sunset
EOS 5D Mark III / EF 24-70mm f/2.8L AF @ 40mm
0.6 S, f/22, ISO 100
On the return trip home, I wanted to make one more visit to Proxy Falls, which I had visited earlier in the summer. In July, the water flow made shooting the falls very challenging due to all the water spray. As it turns out, September is a better time to visit for shooting purposes - less water flow equals less spray, which means you are not constantly wiping off the front of the lens. I am very happy with the results.
I have one more scheduled show this year in Ridgefield, Washington - BirdFest. I'm looking forward to returning to this bird festival after taking last year off. I am hoping to work in some shooting at the wildlife refuge this time as well.
August 13, 2012
The Mill Creek Art Walk was a lot of fun. Lots of friendly folks out for the evening, strolling to see art. The folks associated with the art walk all stopped by to see my work and to make sure everything was going okay. Very nice to have that kind of support. And, the University Book Store folks were very accommodating for space. I was able to set up near the front of the store with very good visibility. I even had quite a few book store customers who had no idea I was there stop by to look. Nice.
The organizers are already making plans for this event next year. I look forward to the opportunity to participate.
Some friends who live nearby came to see my display. As a bonus, they came back at the end and helped me load everything out to the truck. Thank you.
August 6, 2012
I eeked out another success at the Magnolia Summerfest this past weekend. This is a SeaFair related festival and small as festivals go. Very much a family oriented event held in the community of Magnolia, located above Shilshole Bay. You couldn't ask for better weather. The load-in was very easy which always makes for an enjoyable setup. Very well organized and friendly organizers, too. As usual, I made new friends and had a great time.
On Thursday I will be participating in an Art Walk in Mill Creek, 5:00 PM to 8:00 PM, located in the University Book Store. And then on Saturday, I head up to Whideby Island for the Coupeville Arts & Crafts Festival for Sat./Sun.
July 31, 2012
I am happy to announce that I will be participating in an Art Walk in the city of Mill Creek on August 9th. I will be in University Book Store, 15311 Main Street from 5:00 PM to 8:00 PM. This is a first for me, so it will be interesting.
July 30, 2012
Somewhere around the end of June, summer arrived here in Washington. Since then, I've worked in a trip to Bandon, Oregon for some personal business as well as delivering more prints to the Whistling Gallery where I've had work on display for the last two years. On my way back home I managed to visit some waterfalls - Spirit Falls & Moon Falls which are on a creek drainage into the Row River and Proxy Falls on a creek drainage into the McKenzie River.
Since then, I've had a couple of successful festivals - Kent Cornucopia Days and the Sequim Lavender Festival. Cornucopia Days is sponsored by the Kent Lions organization and takes place in historic downtown Kent. This is a community fund raiser event with a lot of foot traffic. Many friendly volunteers to make it a successful event.
The Sequim Lavender Festival was once again graced with a fair amount of rainfall, just like last year. And, like last year, I got to take my booth down in the rain. However, the rain didn't totally keep people from coming out and shopping, but there were times when it seemed the vendors outnumbered the buyers. I am told that rain has been a rare event at the Lavender Festival, but, I don't know....
I extended my stay on the Olympic Peninsula for 5 days and made return trips to Hurricane Ridge for wildflowers and baby deer. I was not disappointed. And, I had a chance to return to the Sol Duc Falls area. It's about a .8 mile hike into the falls, and not as flat as I remembered. But none of that stopped what seemed a steady stream of people from coming to the falls on Thursday - it is the peak of the tourist season after all. This was my clue to plan a return trip early the next morning before the crowds arrived and besides, there was way too much sun hitting the falls to do any decent shooting. And, since the Obstruction Point road was not completely opened until the next day (for avalanche lilies), it worked out to do the falls in the early morning, and then shoot avalanche lilies later in the day. A bit more driving than I wanted, but well worth both trips. Then it was time to head home for a weekend off from festivals.
One thing I didn't mention is an upgrade in cameras - from the Canon EOS 5D (12 MP) to the Canon EOS 5D Mark III (21 MP). For my landscape work this is a substantial upgrade, and for the wildlife it has already proved to be a worthy second camera to have ready with a shorter telephoto lens for when the subjects get too close for the long lens (it happens). I'm still getting used to it as most of the buttons are in different locations so things are not quite as automatic for me. And, I've found the old 1GB & 2GB compact flash memory cards to be painfully small when they were quite suitable for the older 12 MP camera.
June 25, 2012
I eeked out a success at Bothell LiveARTS this past weekend. With torrential rain all day Friday (thankfully, after I was set up) and part of Saturday, the crowd that showed up early Saturday quickly disappeared. When you're planning to go out shopping for art in an outdoor summer venue, you don't normally leave the house wearing galoshes and carrying a bumbershoot. But Saturday you really needed them - it was true Pacific Northwest duck weather. Sunday was much better weather-wise, but not enough to make up for the lack of sales on Saturday. So, you pack up and hope the next show is better.
It was really too bad for all involved because it's a beautiful setting and this is a really well organized show with organizers who are really great to work with. And, they take care of the artists in every way providing cold & hot drinks, continental breakfast, snacks and a light lunch.
Speaking of moving on, I will soon be on the road for the next show in Eugene, Oregon - Art & The Vineyard. A new show for me so I am hopeful to meet many new art buyers. And hopeful for a better weather weekend.
June 18, 2012
The Meeker Days festival this past weekend was a success. The weather was a bit of a mixed bag - a fair amount of sunshine mixed in with wind and rain. I was happy to not be tearing down in the rain on Sunday. I had nice friendly neighbors which is always an added bonus.
It's a quick turn-around for the next festival this coming weekend - Bothell LiveARTS, in where else - Bothell. The festival is located on the campus of Cascadia Community College, located right at the intersection of Interstate 405 and Highway 522 with very easy access and FREE parking. Judging from the list of artists, it looks to be a very good mix of art to see and purchase. I am looking forward to another good show there this year.
June 13, 2012
A burst of activity right before the next festival, Meeker Days, in Puyallup. Busily getting prints, etc. restocked. And, as it seems to go, tweaking the booth configuration. As a result of the restocking process, there are a few new shots in the NEW section of the GALLERY.
This spring we had quite a bit of bird activity in both the backyard and the pond next to the property. And, I happily obliged all the birds that saw fit to show up. One afternoon, a flock of at least two dozen evening grosbeaks came to the backyard feeders - a somewhat rare visitor for us. At least a dozen of those hung around for a week or so and then it dwindled down to a couple of pairs. Here are a couple of shots from a setup in the backyard.

Female evening grosbeak
EOS 1D Mark III / 500mm f/4 AF
1/800 S, f/4, ISO 400

Male evening grosbeak
EOS 1D Mark III / 500mm f/4 AF
1/160 S, f/4.5, ISO 400
After watching all of the duck activity on the pond this winter, we were treated to a clutch of ten mallard ducklings. The baby ducks would emerge from the tall reeds in hot pursuit of momma. Every once in awhile, you would see one venture off on its own, and then realize it was alone and go scooting back to mom. With so little body mass and fairly big feet, they seemed to skim across the water. After observing them, it's easy to see where the phrase "like a duck takes to water" comes from. They were a joy to watch. We now have three from the first clutch still on the pond and getting bigger, but the wings are not fully developed so they can't fly yet. Since that clutch hatched, we have had another clutch hatch and on the pond right now.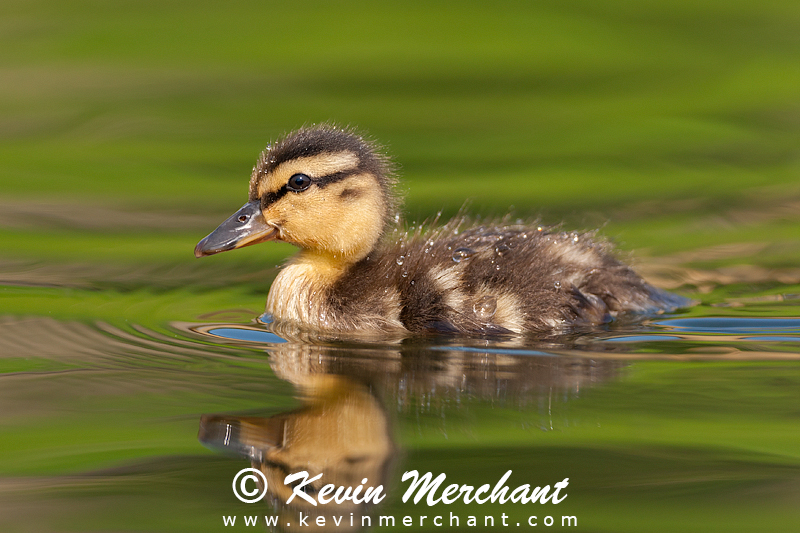 Mallard duckling
EOS 1D Mark III / 500mm f/4 AF
1/1160 S, f/4.5, ISO 400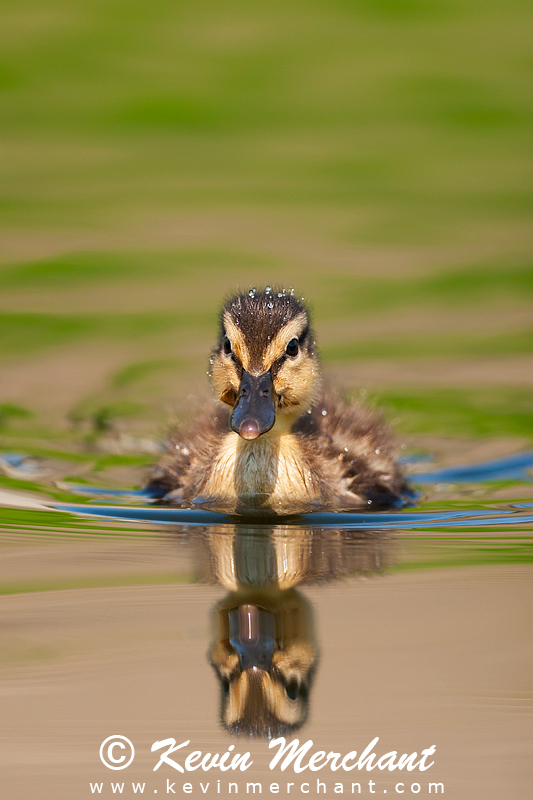 Mallard duckling
EOS 1D Mark III / 500mm f/4 AF
1/2000 S, f/4.5, ISO 400
The real treat though was a killdeer pair that nested right below our retaining wall. The female laid four eggs that we could keep watch on. The incubation period is anywhere from 24 to 28 days. The nest was right on top of the gravel. The only way you would know it was there would be to see the mom doing her alarm/wounded bird routine to distract you away from the nest.
As the time approached, I would periodically go out to check on the eggs and one day there were only three eggs in the nest. Well, on closer inspection, I found the one chick in the nest beside the eggs, well camouflaged. The next day, three of the four had hatched and one day later they were all up and about. After that day, the parents disappeared with the chicks off into the tall grass.
Unlike other baby birds, killdeer chicks are born with feathers and are able to be up and about feeding within 24 hours of hatching. Remarkable. Once the chicks made an appearance I knew I would not have a whole lot of time to get pictures and sure enough, I didn't.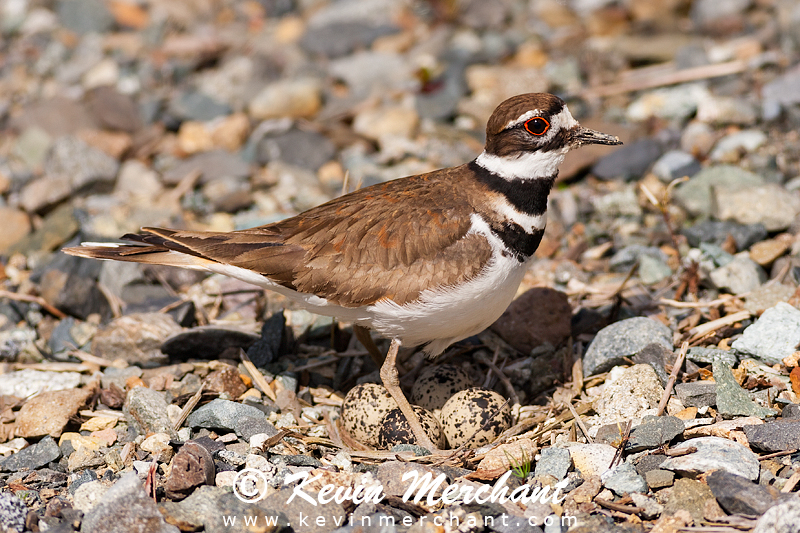 Female killdeer and eggs
EOS 1D Mark III / 400mm f/5.6 AF
1/3200 S, f/4.5, ISO 400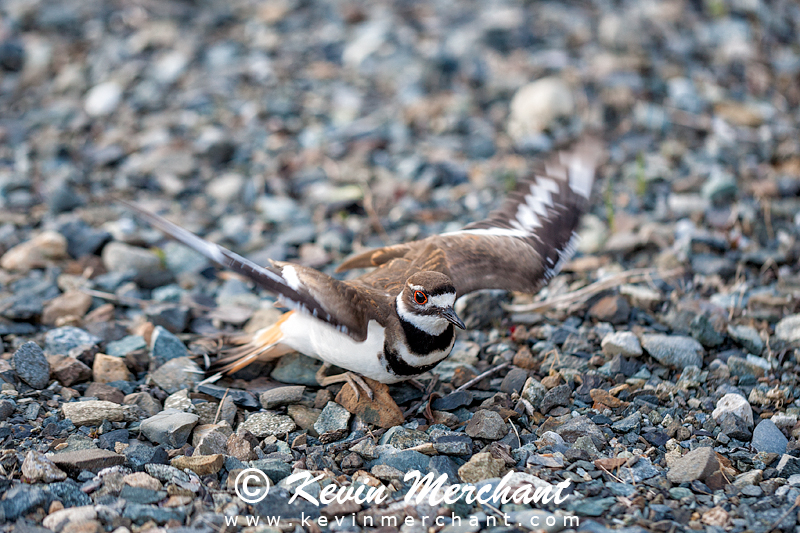 Female killdeer and the injured display
EOS 5D / 100mm f/2.8 AF
1/200 S, f/2.8, ISO 200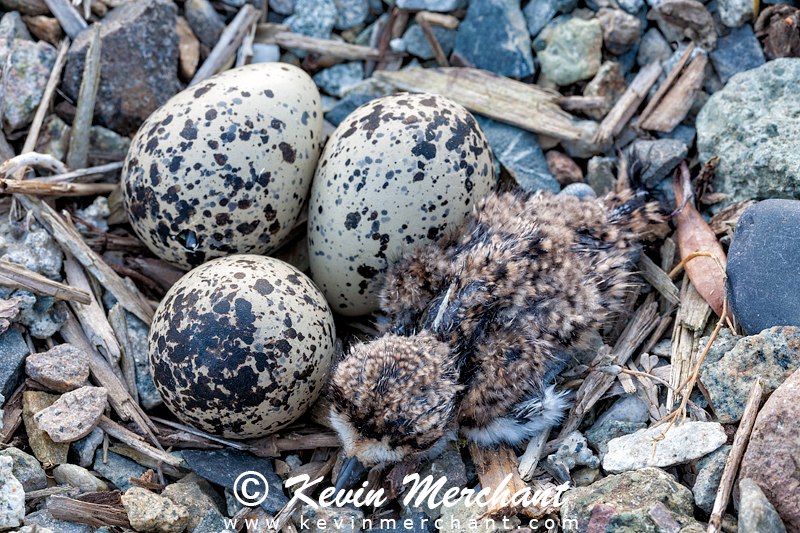 Killdeer chick and eggs
EOS 5D / 100mm f/2.8 AF
1/4 S, f/16, ISO 200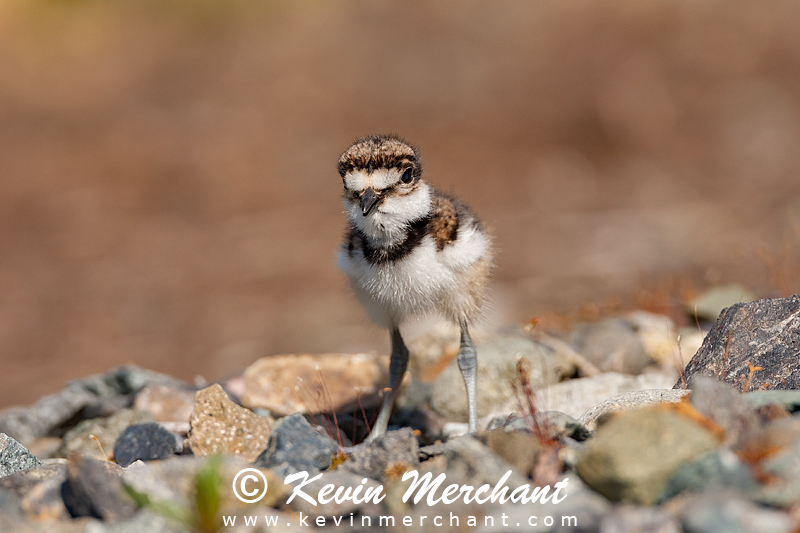 Killdeer chick
EOS 1D Mark III / 500mm f/4 AF / 1.4x Teleconverter
1/1600 S, f/8, ISO 400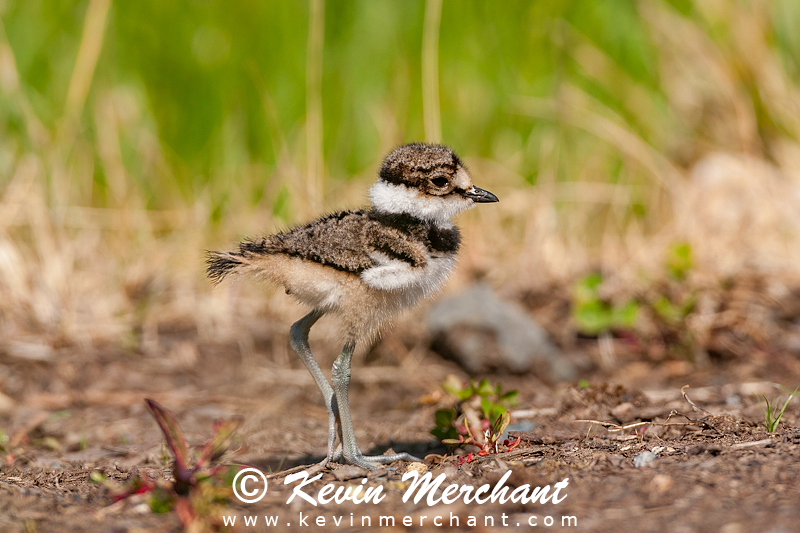 Killdeer chick
EOS 1D Mark III / 500mm f/4 AF / 1.4x Teleconverter
1/1600 S, f/8, ISO 400
May 30, 2012
I just got back from the Juan de Fuca Festival in the scenic city of Port Angeles, Washington. This was a four day festival over the Memorial Day weekend. I would say the main draw of the festival is the music and other performing arts occuring on 4 or 5 stages around town each day. Mixed in were the tempting smells from various food vendors on the street and the nearby arts & crafts marketplace, where my booth was.
We had two days of great weather and then the temperatures dropped on Sunday, followed by drizzle on Monday, with a dash of wind to mix things up. This did not, however, stop the people from coming out - it became a Gore-Tex parka kind of weekend. With threatening weather, we closed a bit early on Monday, but at least it wasn't raining during the tear-down.
The festival was a success for me, meeting lots of friendly folks. This was my first time at the festival, but I have visited Port Angeles many times in the past. I was very impressed with the festival organization and friendly staff. The bonus was how easy load-in and load-out were. Considering the time of year, you couldn't ask for better weather.
I stayed with a friend and that made the weekend all the more enjoyable. It won't be too long before I go back that direction for the Lavender Festival in July. Maybe I'll see you there.
May 1, 2012
The John Scharff Migratory Bird Festival in Burns, Oregon was a success. As usual, I met lots of really nice folks. One family was really helpful to me in locating a few birds I later photographed after the festival. I stayed a full week after the festival and photographed a wide variety of species, similar to last year. It was a bit early for the songbirds, but there were plenty of ducks and waders. I think I actually had more productivity outside of Malheur Wildlife Refuge as I did within the refuge proper. The lesson learned? Birds don't know the difference - they just go where the food is.
This year's target species was the greater sage grouse and I made a number of visits to the lek, west of the refuge. I actually discovered a new definition of insanity - getting up at 3:30 AM, driving for an hour to get to an unmaintained road, drive close to 10 miles off pavement (it is recommended that you be at the lek by 5:30 AM, while it is still dark), sitting in the cold waiting for the sun to come up. For about two months each year, however, you are guaranteed (this is the part I like) that the male sage grouse (I counted as many as 23) will show up at this particular location, every day and barring no rain, will display for females (I counted as many as 3) until about mid-morning.
The males have two air sacs on their breast that they inflate in quite a ritualistic manner - raising their head and simultaneously raising their wings forward taking in air. On the third air intake the head will disappear down into the chest as the air sacs become fully inflated, bulging out of the chest like two balloons, releasing the air, making a wumping sound (is that a word?), and then survey the area to see if anybody noticed. Now, imagine this times 23 and you can get the idea of the cacophony of sound you hear in the dark when you first arrive. This goes on for about 3 hours. Each male will pick a spot to perform and each time face a different direction. For no apparent reason, they will wander off, supposedly to a new and better spot to repeat the display. Every once in a while there is a territory scuffle with much staring each other down and flapping of wings, with the occasional threat of a beak bite. At no time during the making of my images were any fowl harmed. At times, each male will take a rest.
With the repetitive and predictable nature of these birds, it was easy to fill up several memory cards trying to catch as much of the action as possible, for the few birds that were within shooting range and unobscured by, uh, sage. The sage grouse is a threatened species, so I am glad to have witnessed this behavior. A highly recommended experience.
Again, this year much of the shooting was done from my truck, using it as a blind. Even so, many of the birds are skittish and move off as soon as you approach. Persistence and patience are the order of the day. No surprise, it's wildlife after all. I hope to have a few shots up soon.
This coming weekend is the annual Grays Harbor Shorebird Festival in Hoquiam, Washington and I'll be there with all of my bird prints for sale. Maybe I'll see you there.
March 19, 20127
Another successful year for the Wings Over Water festival in Blaine, Washington, up north near the border. I left the house in rain and was in rain most of the way. Just south of Bellingham, I had mixed rain and snow. By the time I reached the high school though, the rain was gone and the clouds began to lift - a dry load-in. Nice.
It seemed to me that there were more people than last year's festival, but I don't know if they have an official count. Certainly, they had good weather to be outside on the birding trips. Every one was happy to have a sunny day. As usual, I made new friends and saw people that I have gotten to know from the last two years. Everyone is very friendly and helpful.
This was the maiden voyage for a new indoor set up that we have invested in this year. A smaller configuration that takes way less time to set up and tear down. Not to mention less to haul. I believe this is going to be very suitable for the smaller indoor shows, especially when I am by myself.
Well, it has begun - another season of selling. This coming weekend, I will be in Othello for the Sandhill Crane Festival. This one can be tricky since I have to get over Snoqualmie Pass, which has been closed off-and-on the last few weeks due to snow. But, I'm looking forward to getting back to Othello to see the sandhill cranes and burrowing owls.
January 2, 2012
My retail sales activities have gone into hibernation for the winter; expected to resume in early spring or there abouts. Now, it is time to do some catching up and getting applications into shows I would like to do this year. There are a few shooting trips plotted, but nothing is planned. What's new there?
I wish all the visitors to this site a prosperous and happy New Year. Maybe I'll see you along the road somewhere in 2012.