Kevin Merchant Photography News - 2015
PAST 2015 EVENTS
Wings Over Water (Blaine, WA) - March 14
Grays Harbor Shorebird & Nature Festival (Hoquiam, WA) - May 2-3
Leavenworth Spring Bird Fest (Leavenworth, WA) - May 16
Artists Garage Sale (Everett, WA) - June 6 - 9:00 AM to 3:00 PM
Chateau Ste. Michelle Event (Woodinville, WA) - July 4 - 10:00 AM to 5:00 PM
Art Walk (Mill Creek, WA) - July 9 - 5:00 PM to 8:00 PM
Wedgwood Art Festival (Seattle, WA) - July 11-12
Sandblast Festival of the Arts (Duvall, WA) - July 18-19
Art In The Park (Richland, WA) - July 24-25
Coupeville Arts & Crafts Festival (Coupeville, WA) - August 1 - 2
Fresh Paint (Everett, WA) - August 15-16
BirdFest & Bluegrass (Ridgefield, WA) - October 3 - 4
Woodinville Holiday Craft Fair (Woodinville, WA) - November 7, 9:00 AM to 4:00 PM
2015 FARMERS MARKETS
September 16, 2015
As my sales season winds down, I have had time to complete editing and processing a rather large stack of bird images from this past June. I travelled to eastern Washington and spent four days with western and mountain bluebirds, along with a few others that passed close by. All of the shooting was done on dirt roads using my truck as a blind. With a fair amount of traffic, I had to be on my toes, putting windows up whenever a vehicle passed by to keep as much of the dust out as possible. I still had to completely wipe down the inside of the truck after I got home.
Did I mention that it was hot? Did I mention that I had to stay in the vehicle? Well, it was definitely worth the effort since both of these species have been on my list for a long time. It was really great to watch all the feeding behavior as the birds were bringing various insects to feed their chicks - ants, spiders, grasshoppers, meal worms, and a host of others I would need an entomologist to identify.
I observed that the birds would typically fly off to a remote perch whenever a vehicle passed by. I might have to wait several minutes before they would return. It was definitely an exercise in patience. I frequently get comments about my patience from customers. Yes, this particular activity requires a fair amount of it. I'll let you decide whether it is worth it.
Here are just a few of my favorites from the trip.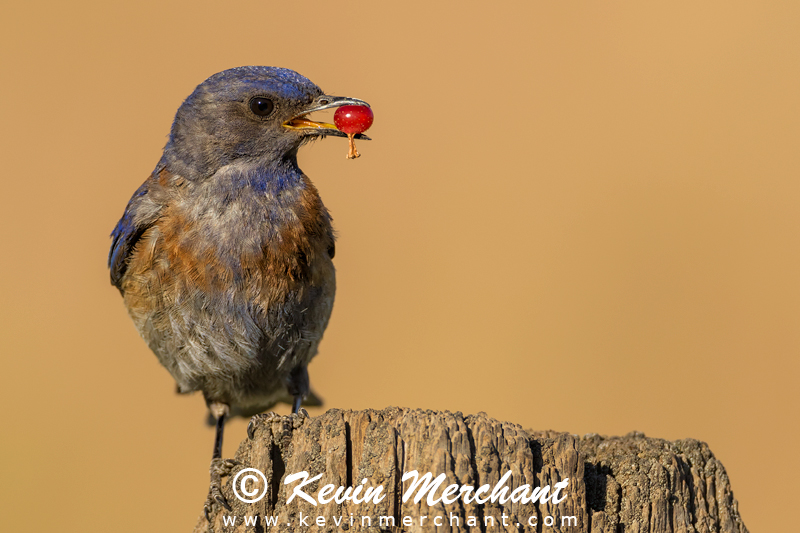 Male western bluebird with berry
EOS 7D Mark II / 500mm f/4L AF / 1.4x Teleconverter / 1/2000 S, f/7.1, ISO 400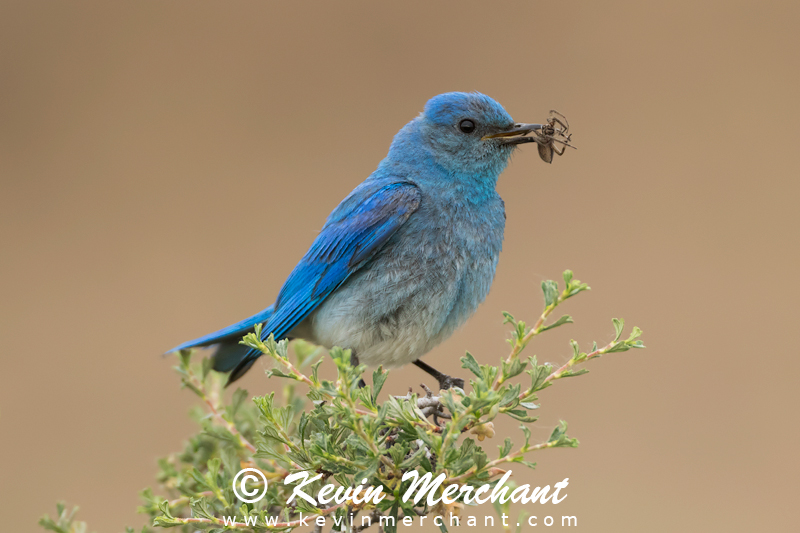 Male mountain bluebird with spider
EOS 7D Mark II / 500mm f/4L AF / 1.4x Teleconverter / 1/640 S, f/5.6, ISO 1000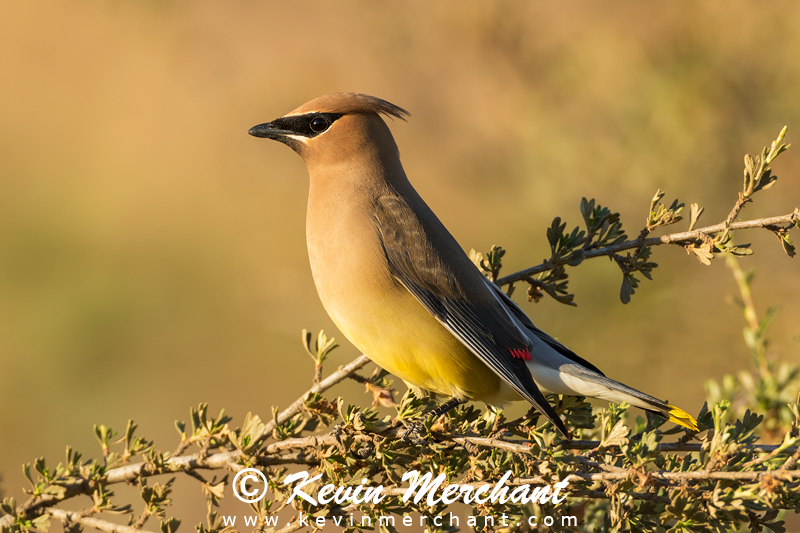 Cedar waxwing
EOS 7D Mark II / 500mm f/4L AF / 1.4x Teleconverter / 1/640 S, f/7.1, ISO 400
August 7, 2015
I've been working on some new canvases that will be available for the Fresh Paint festival in Everett next weekend. Last year I had the opportunity to spend a couple of mornings with one pair of burrowing owls. Several times, the female would lower her head to the male and he would proceed to groom her - very sweet.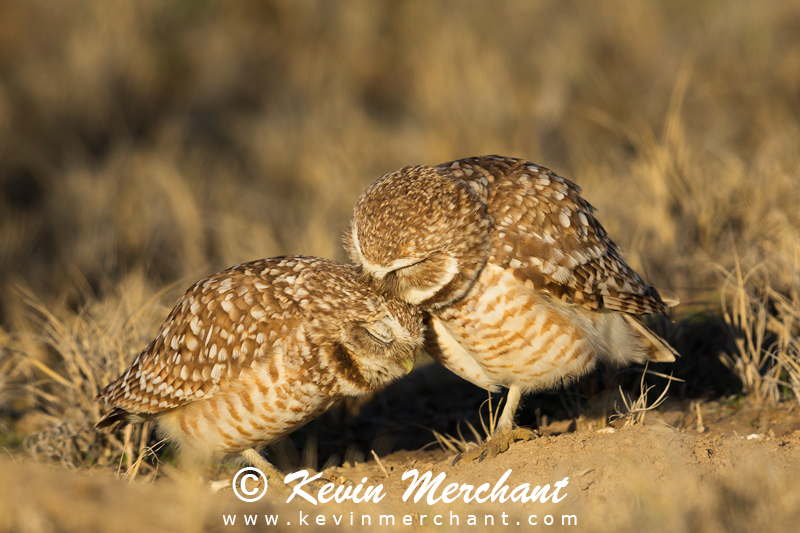 Burrowing owl pair
EOS 5D Mark III / 600mm f/4L AF II/ 2x Teleconverter / 1/1250 S, f/8, ISO 400
Here are some shots from earlier this year that will be making an appearance on canvas - short-eared owl, bald eagle and western bluebirds.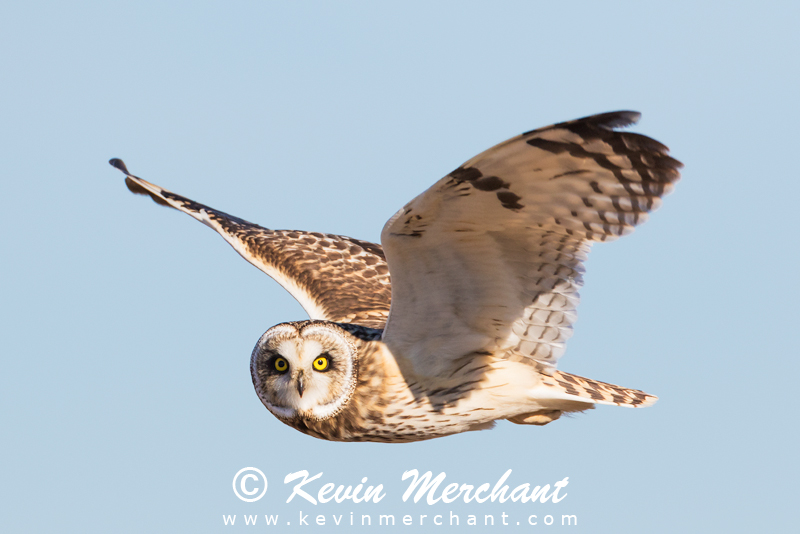 Short-eared owl
EOS 7D Mark II / 500mm f/4L AF II/ 1.4x Teleconverter / 1/2500 S, f/8, ISO 640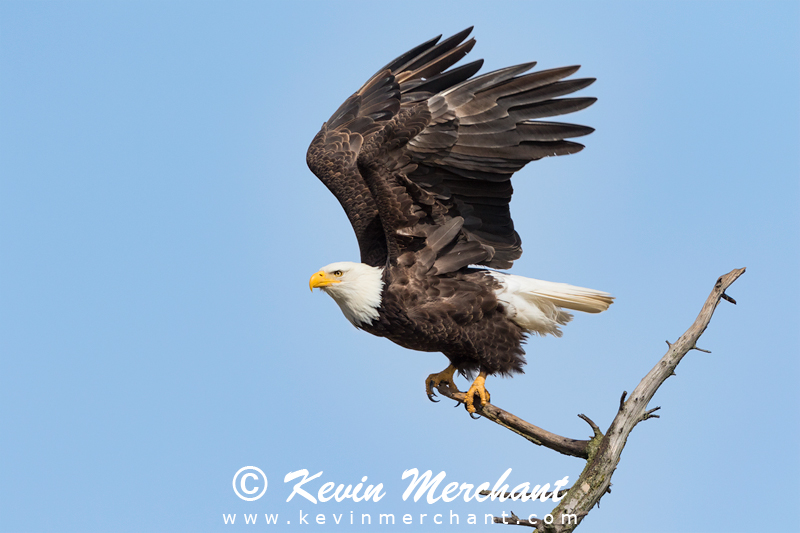 Bald eagle
EOS 7D Mark II / 500mm f/4L AF II/ 1.4x Teleconverter / 1/2000 S, f/8, ISO 400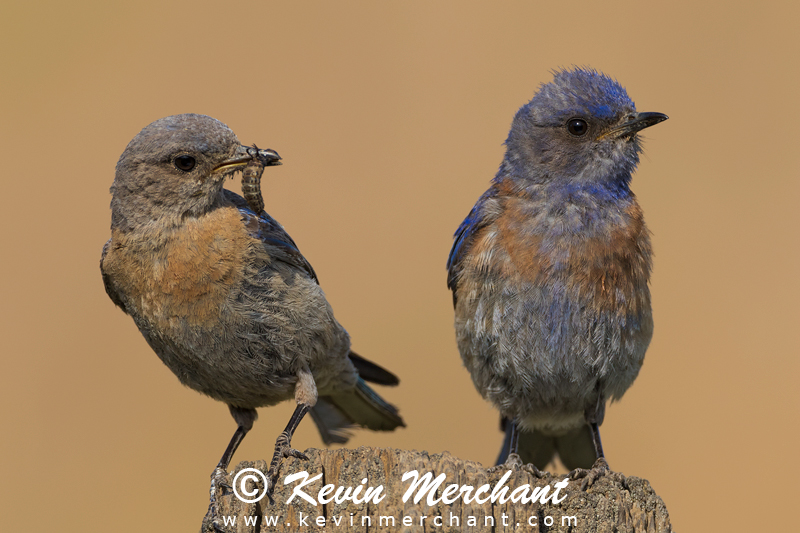 Western bluebird pair
EOS 7D Mark II / 500mm f/4L AF II/ 1.4x Teleconverter / 1/640 S, f/9, ISO 400
The bluebirds were actively feeding chicks in the nearby nest. Here the female has come in with a tasty treat for her young ones. Pretty soon, she flew to the nest box and delivered the meal. This was a consistently repeated pattern, giving many opportunities to photograph this pair, using my truck as a blind.
August 3, 2015
Despite competing with Blue Angels and an unlimited hyrdo-plane race for SeaFair this past weekend, the Coupeville Arts & Crafts Festival was a success for us. Temperatures weren't quite as high as past weekends although Seattle did break a record on Saturday. It helps that Coupeville is right on the water and gets the cooling effects of Puget Sound.
Thank you to all of our customers this past weekend. You are why we keep doing this.
A big thank you to all of the orgainizers and volunteers that make this festival one of the better organized events that we have the privilege to participate in. We recognize and appreciate the monumental effort that is put in to such a well attended and well organized event.
Looking forward, this coming Saturday will be our first day at the Woodinville Farmers Market this year. Circumstances and festivals have kept us busy and unable to participate until now. Due to the efforts of individuals on the city's Parks & Recreation Commission, some of the market's board members and market members at large, the market has been able to relocate to DeYoung Park, in the heart of the Woodinville business district. I have heard really good reports about market visibility and foot-traffic so I am looking forward to participating.
I have one more major show remaining for the summer at the Everett Marina - Fresh Paint. Last year was our first year to participate and we are looking forward to returning. I will be working on some new pieces for a new booth configuration that we have been plotting. We hope to see you there.
July 27, 2015
I escaped the heat of western Washington by going to the "usually hotter" eastern Washington; Richland to be specific for the Allied Arts Art In The Park event. It was a sunny, but cooler weekend. Apparently, it had been very hot up until a few days before I arrived (I'll take it). I drove back home in the cool of night (Saturday) and the cool of morning (Sunday) to arrive to what else - rain. The first rain we have really had all summer. We have had an extended period of higher than usual temperatures and dry weather to go with it. Our rain gauge read 1.7" this morning.
This weekend we will be at the Arts & Crafts Festival in scenic Coupeville, located on Whidbey Island. Hopefully the cooler temperatures will continue with a little less rain.
July 20, 2015
We've dusted ourselves off from the Sandblast Festival of the Arts in Duvall, Washington this past weekend. Did I mention it was hot? Well, it was hot. We Washingtonians can take the rain. But this heat? Not so much.
A glutton for punishment, I'm heading to eastern Washington this week for Art In The Park, located in Richland. Temperatures are likely to match anything western Washington has thrown at us. I can't wait.
July 17, 2015
Just a reminder that I'll be at the Duvall Sandblast Festival of the Arts this weekend. I hope to see you there.
As promised, I have uploaded, to the NEW section of the GALLERY, images from our desert bloom trip to southern California back in March. They are ordered somewhat chronologically for the trip, starting with our stop on the south Oregon coast at Cape Blanco. This is a spectacular location of a working lighthouse. It has the distinction of being the western most point in the US lower 48.
As is typical of seasonal events, the desert bloom is hard to predict precisely and really occurs over a two month period. As it turned out, many flowers bloomed early due to warmer temperatures. That seems to be a theme of our entire spring and summer blooming events.
We started with a visit to Lancaster, the location of the California Poppy Preserve. Extreme heat caused the southern exposure (where the majority of the bloom occurs) to be gone by the time we arrived. Thankfully, the northern exposure was preserved by shade. Not quite the sweeping views of poppies that we were imagining to experience. But poppies we did get.
From here, we chose to head to higher elevations in hopes of finding blooming plants due to cooler temperatures. That would be Death Valley National Park, believe it or not. We were not disappointed. Although, finding the blooms required more effort than expected. This is a time of year that you do find the color green in one of the hottest places in the US. In addition to flowers, we spent time out on the Mesquite Sand Dunes, a day's drive through Titus Canyon, a brief visit to Ubhebe Crater (the 30+ MPH winds were too much), and Zabriskie Point for sunrise.
After a week in Death Valley, we headed west to the foothills of the Sierra Nevada mountains, stopping in Lone Pine for a couple of days in the Alabama Hills. This is a place that you have most likely seen without realizing it - it is the location of numerous western films and many other films requiring that "classic western" look.
We sought out and photographed two of the most popular features - Möbius Arch and Whitney Portal Arch. Oh, and of course, Mt. Whitney, the highest peak in the lower 48.
Next stop was Lee Vining, where you will find Mono Lake. The attraction here is the result of a water diversion to the LA area - the water level has been lowered by almost 50', exposing volcanic steam vents called tufas which have a very strange, otherworldly look. There is a restoration plan in place to raise the lake level, but will most likely not result in the lake's original level.
After a sunset/star shoot and a sunrise shoot and we're on up the road to Bodie State Park - the location of one of the most well known ghost towns from the gold rush era. At an elevation of 8000', many of the buildings are fairly well preserved. There is far more than you can see in a day and we only had a few hours before we had to be on our way.
Our next stop - Lake Tahoe for a sunset and sunrise shoot. Neither were quite successful as my intention was to be at a fairly popular shooting location known as the Bonsai Rock. I had not researched this before leaving home and I managed to snag incorrect GPS coordinates from the Internet. So, we were most definitely at the wrong spot for sunset, the best time to shoot from this location. The next morning we did manage to find the right location, but sunrise was clearly not the best time. Our time was limited as we needed to be heading in the direction of home, so this spot will have to wait for another trip.
Our final destination was Burns, Oregon for a little birding. We managed to track down several burrowing owl nesting sites with activity. Very cool. We also drove out to a greater sage grouse lek for sunrise. The number of sage grouse has been greatly diminished due to a fire from two years ago - we only saw 5 males and no females. Our birding effort ended with a great horned owl pair.
Overall, it was a very successful trip. The flowers weren't as plentiful as I had hoped, but the landscape opportunities more than made up for that. It was a great trip. Please be sure and check out the photos in GALLERY >> NEW >> July_17_2015 and May_21_2015.
July 13, 2015
The summer sales season is well underway. Three events have already come and gone in the last week - Chateau Ste. Michelle Fourth of July event, Mill Creek Art Walk, and the Wedgwood Art Festival.
Coming up this weekend is the Sandblast Festival of the Arts in Duvall. A new festival for us and we are looking forward to a couple of fun days in the sun.
I have been busily processing images from a trip to southern California, this past March, for the desert bloom. I have posted the panoramas from that trip in the NEW section of the GALLERY. Those represent what I call the heavy lifting shots, as they are each painstakingly pieced together from multiple images to form a single resulting panorama image. I hope to have all of the single shot images finished and uploaded soon.
I also have made a couple of other trips that I'm excited to share in the not too distant future, as time allows for processing - eastern Washington for Western & mountain bluebirds and a whirlwind trip to Mt. Rainier that included some star shooting and a hike to Spray Park for wildflowers at sunset. Until then, I hope you have some time to take a look at the other new images I have been posting in the NEW section.
May 18, 2015
The Leavenworth Spring Bird Fest was a success for us. We left at 4:00 in the morning and arrived in Leavenworth right at 6. It was a pretty casual arrangement - booth spots were first come, first served. Some folks set up on Friday but we chose to sleep in our own bed. This is the second year that they have had a market opportunity. We are thankful for the opportunity to be a participant.
We ascended Stevens Pass in the rain, and descended into Leavenworth in sunshine. It was a pleasant day out in the sunshine, enjoying the outdoors, with the sound of the Wenatchee River and a view of the distant mountains all day long.
We want to thank the organizers and all of the volunteers who made the festival possible.
May 13, 2015
The Grays Harbor Shorebird & Nature Festival was a success for us again. The weather was almost too perfect - we had a lot fewer shoppers than usual. Nobody wanted to be inside and who can blame them?
This coming Saturday, we are participating in what is a new festival to us - the Leavenworth Spring Bird Fest. The festival starts on Thursday and runs through Sunday. However, the market is a one day event on Saturday. So, we will do an obscenely early rise on Saturday to drive over and be there at 6 AM to setup outside. It will be much like my farmers market setups, with stripped down inventory and less wall space for display. It is simply not worth the effort for a full weekend outdoor setup.
We are looking forward to being in eastern Washington for the day. Leavenworth is a tourist destination with an intentional Bavarian theme to it. No, I will not be wearing my lederhose. Come to think of it, I don't own any.
Our summer schedule is almost filled out, with a couple of events pending.
May 1, 2015
My summer schedule seems to be filling up slowly for me this year; at least that's the way it feels. I am leaving more time to do some shooting this summer so that's a good thing.
Tomorrow we are participating in the Grays Harbor Shorebird & Nature Festival for the 7th year. We are looking forward to seeing many of the past participants as well as all of the attendees of the festival. Judging from the bird counts on the web site, the birds are here. The weather forecast looks promising.
As much as I have intended to get to the coast this spring, circumstances have not allowed. I am still hopeful to make a trip later this month to central Oregon for the spring migration in the Burns area. Having passed through last month I know it is very dry there. Drier than last year, as a matter of fact.
I did manage to make some winter trips out and about shooting - long-eared owls, short-eared owls, northern harriers, great blue herons, bald eagles, northern pintails, horned grebes, common loons, black turnstones and common goldeneyes. I have posted some work in the NEW section of the GALLERY. Be sure to have a look. I'm very happy with the results.
April 15, 2015
Gifts come in different forms I think we can agree. From a bird photography perspective, and my perspective in general, spending an hour with a very tolerant bird is the best gift I could wish for. And, occasionally, that happens.
Below is one such example. Occasionally, our backyard is visited by a sharp-shinned hawk on the hunt. Of course, it is not always in the best light, but it is fascinating to watch the hunt. All of the songbirds scatter, sometimes close by in dense shrubbery. The hawk many times will get down on the ground and skulk around under the bushes, flushing out the quarry. Usually, unsuccessfully, I might add but it is humorous to watch.
On a couple of occasions, I have seen a successful hunt, in mid air no less, but it usually ends with the hawk flying off, empty handed, so to speak. My most recent encounter was one such occasion. But, I was able to spend an hour shooting the bird in mostly great light.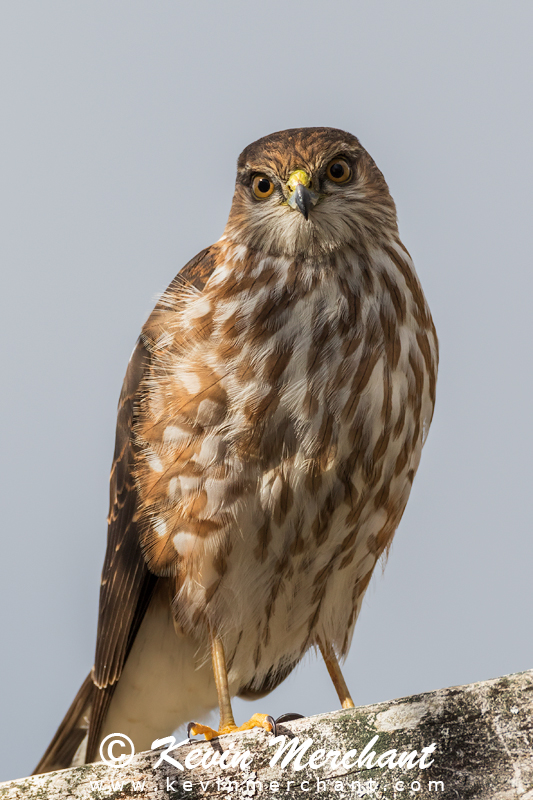 Sharp-shinned hawk
Canon EOS 7D Mark II / 500mm f/4L AF IS / 1.4x Teleconverter / 1/1000 S, f/8, ISO 400
One particular series of shots that I want to share shows the hawk spotting a bird and tracking it as it flies behind me into a maple tree. He almost launches, but stops just short of rocketing after his prey, as it disappears. How would you like to be under such a watchful, intensely focused eye?


Sharp-shinned hawk
March 31, 2015
The Wings Over Water Festival in Blaine, Washington was a success for us again, this being our 6th year to participate. We carved out an extra day to be there to photograph some of the seasonal species - northern pintails, common goldeneyes, horned grebes, common loons and the usual bald eagles. With the mild winter we have been having, I suppose some of the winter time species have already moved on. In any case, we had a great day of birding before the festival. A big thank-you to all the volunteers who make the festival possible.
February 20, 2015
A year ago today I posted some Seattle Seahawks related photos that have been popular this past year. Seattle seems to be slowly emerging from the shock of the Seahawks snatching defeat from the jaws of victory in that game, well, you know, right? Time to move on.
And, in that spirit, I have posted some new shots that have been patiently waiting on me since last August when I visited the Chihuly Garden and Glass display with my wife and sister. I have been fascinated with Dale Chihuly'a glass art since moving to Seattle (he's a native son of Seattle). It falls into the category of eye candy - your eyes are immediately drawn to it.
The inside display is darkly lit with dark flooring and walls. All the better to show off the glass pieces with well placed lighting. They allow photography and so it was interesting watching everyone shooting hand held shots in very low light conditions, and in many cases with flash. Realizing that conditions were not ideal for taking tack sharp pictures (in my preferred style), of these copyrighted art pieces, I didn't even attempt any photography, at first. After all, I had only taken my snapshot Canon G10.
Then it occurred to me - forget sharp shots of the glass. Look at all this colored light - you just have to move the camera during long exposures. Suddenly, I was this nut, moving my camera around in all sorts of weird motions taking pictures. I can't imagine what people were thinking. But I was having fun. My wife and sister practically had to drag me away so we could go eat dinner.
It is completely different than anything I normally shoot, but I like the abstract nature, all the patterns, all the colors and no two shots are alike. And, it was shot like most of my other shooting - only with available light. I call it glass art re-imagined.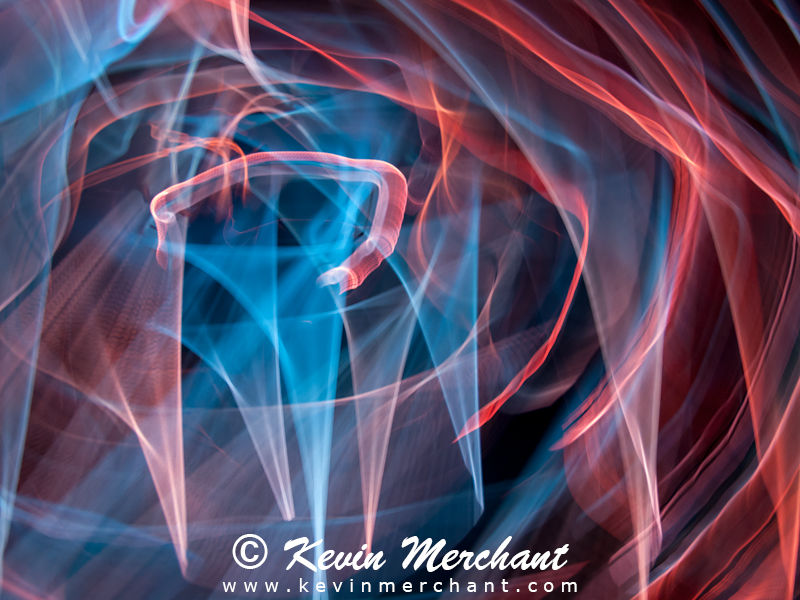 Red, white and blue abstract
Canon G10 / 6.1 mm / .6 S, f/2.8, ISO 100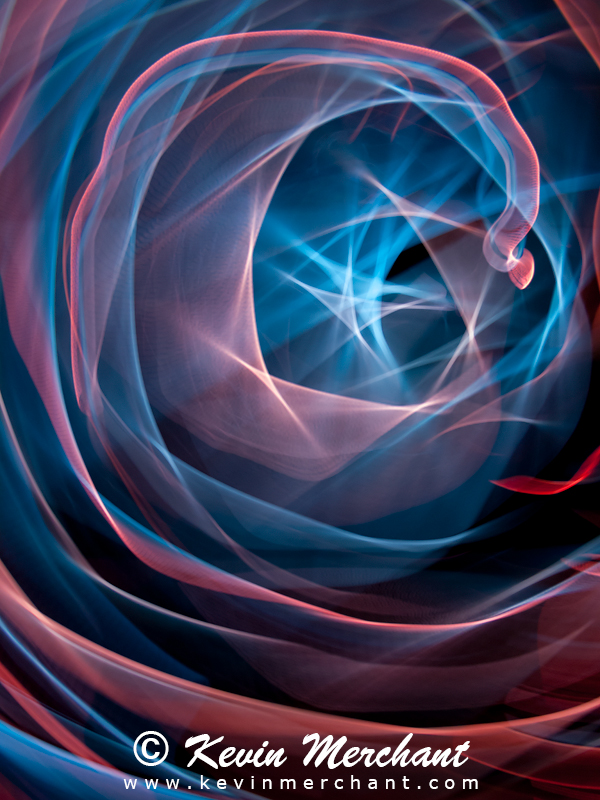 Red, white and blue abstract
Canon G10 / 6.1 mm / .6 S, f/2.8, ISO 100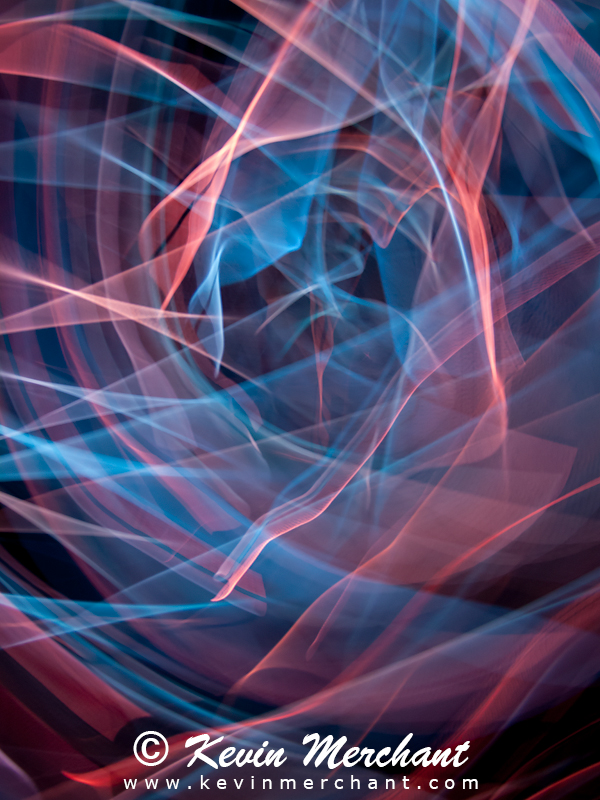 Red, white and blue abstract
Canon G10 / 6.1 mm / .6 S, f/2.8, ISO 100
All of the shots are now up in the NEW section of the GALLERY. You'll have to let me know what you think. I have also recently posted several other groups of photos, some with themes of their own - fall color leaves and clouds.
January 19, 2015
The Seattle Seahawks snatched victory from the jaws of defeat yesterday, so it seems appropriate to reprise last year's 12th Man image one more time. Go Hawks!

Go Hawks!
January 1, 2015
I wish a prosperous and happy New Year to everyone. It is solidly winter here in Redmond - the pond has frozen over and we're bringing the hummingbird feeder in at night to keep it from freezing.